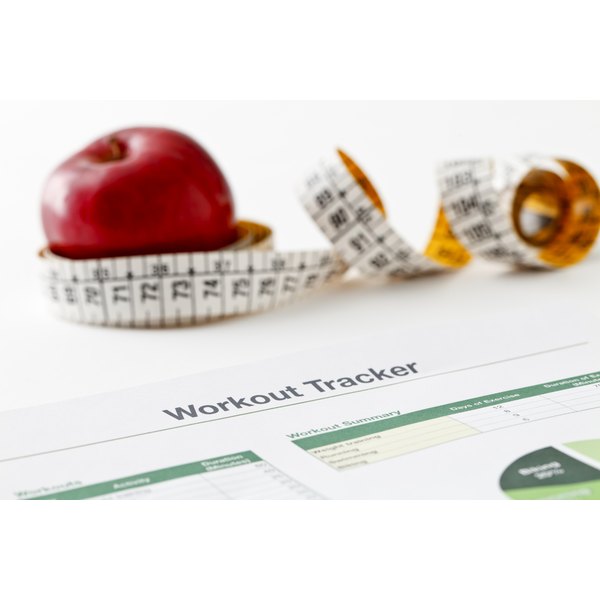 Tracking your diet and exercise habits is one of the most effective ways to meet health and fitness goals. In fact, Kaiser Permanente Center for Health Research found in a study of 2,000 participants that those who tracked diet and exercise lost twice as much weight as those who did not. Diet and exercise worksheets can make you aware of your current habits and help you identify what you can change to improve outcomes.
Choose your method
A number of smartphone apps are available that track your diet and exercise habits. An advantage of this approach is its accessibility. Chances are your phone is wherever you are, so you will be able to record diet and exercise activity in real time. You may also choose pen and paper. Keep a small journal in your purse or pocket. The advantage of creating your own log is that you can record exactly the kinds of information you want to capture. You also won't have to worry about a low battery.
Record accurately
Many weight loss plans fail because of a common tendency to underreport food intake and overreport physical activity levels. Completing a diet and exercise worksheet forces you to quantify meals, including snacks, and movement. Get the most accurate information by recording exactly what and how much you ate immediately after your last bite. With exercise, record your start and finish times, as well as level of exertion, as soon as you cool down. You may also want to record your weight on a weekly basis.
Paint a complete picture
A good way to identify harmful, as well as helpful, health habits is to paint the full diet and exercise picture. Answer the questions when, where, and what as well as how much. For example, what times do you eat? How did you feel before and after you hit the gym? When are you most likely to snack? Do you notice that you eat more when you are in the car instead of at the table? What is your mood like after meals and snacks?
Review regularly
Pull out your diet and exercise worksheet for review at least once each week. What patterns do you see? What can you do differently? For example, can you avoid eating meals in the car? Can you eat more protein and fiber for breakfast to help you avoid that mid-morning visit to the vending machine? Use what you learn from observing your habits of the last week to adjust your shopping list, exercise schedule, and eating plan as needed.