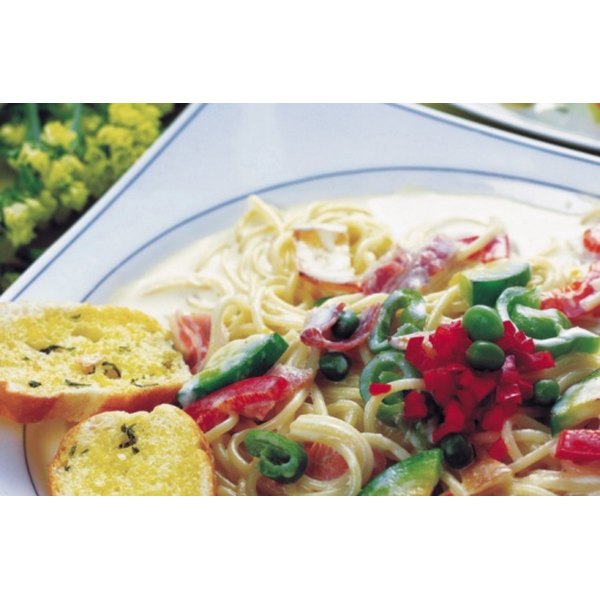 A classic dish, pasta with olive oil and vegetables can be as simple as a throw-together in your home, but step it up a notch with flavor-rich additions such as garlic and fresh herbs. Fresh is always better. Also, in-season vegetables and cold pressed olive oil make the freshest healthiest meals.
Italian Staple Food
According to cookbook author Ursula Ferrigno, pasta is fundamental to Italian life. It is a daily ritual, consumed at every lunch or dinner as part of the first course and never as a whole meal or on its own. A simple pasta dish has a myriad of options with various vegetables, legumes, cheeses, oils, herbs and spices.
Use the idea of "simple" to create your next vegetable pasta dish with olive oil. Olive oil has a fruity aroma and a rich, nutty taste that enhances the flavors of many foods.
General Cooking Method
Follow package directions for the pasta you choose. Most pastas lend themselves well to olive oil, but not all are made for heavy sauces, hence the simplicity of this idea.
Heating the olive oil and sauteing the flavorful vegetables such as onion, garlic, carrot and celery is a great first step. Then you would add other vegetables that do not need as much cooking and coat with the olive oil to saute lightly. This can be anything from cubed steamed squash, to peas, spinach, asparagus, tomatoes, olives, peppers, broccoli or cauliflower. Toss all this with your cooked pasta, with a ladle-full of the cooking water, and then add fresh herbs such as fresh chopped basil, mint (good with peas), sage, parsley or thyme.
Dinner for Four
Roughly one pound of pasta serves four people. Figure on about 1/8 to 1/4 cup olive oil for the sauteing -- you can always add more. Onion, celery and shredded carrot are good starters, or just garlic. You can either put whole garlic cloves in the oil to flavor it or mince the garlic for accompanying chopped tomatoes and basil. Then add your main vegetables, whether in combination or singly, as you would with pasta with spinach. Then add a handful of freshly chopped herbs, and 1/4 cup cheese if desired, plus more for serving.
Additional flavors
Lemon juice offers a good last ingredient to pasta and vegetables, especially where aged hard cheeses are involved. You can even fan thin lemon slices atop each pasta dish.
Walnuts, pine nuts, almonds and cheeses such as Parmesan, feta or Romano all make good toppings or stir-ins as well as freshly ground red or black pepper.