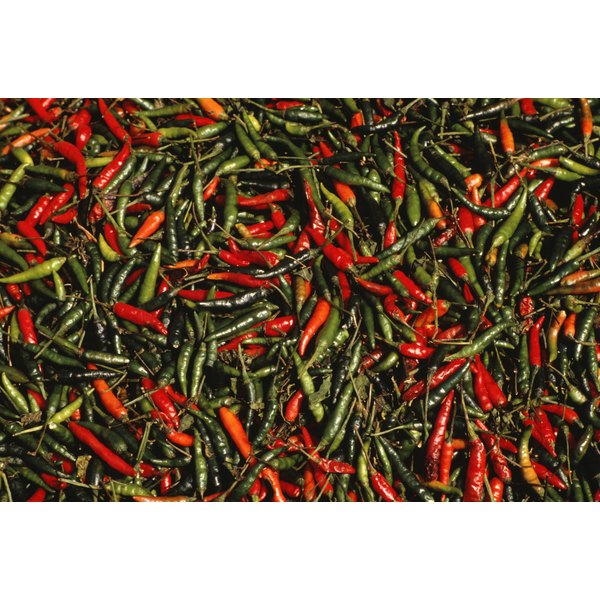 Spicy foods get their bite from ingredients like garlic, hot peppers, wasabi and horseradish. Spices and spicy food have been around for years, making appearances in both the medicine and cuisine of North America, Latin America, Europe, Asia and other regions. Components of hot peppers are used in modern medicine, predominantly for pain relief from arthritis, diabetes and nerve pain. Some components of spicy food might have healthful properties when ingested orally.
Infections
Both chili peppers and garlic can help fight infections. A study published in the June 1996 issue of the "Journal of Ethnopharmacology" investigated the antibacterial effect of chili peppers, commonly used in Mayan medicine. The researchers found that chili peppers inhibited five types of bacteria. Hot peppers are sometimes used as a homeopathic remedy for ear infections. Laboratory studies on garlic have shown that the spice has antiparasitic, antifungal and antibacterial properties. Both hot peppers and garlic help to boost your immune system, enabling your body to fight infections.
Cancer
Spicy foods containing peppers might have an impact on cancer. In 2006, researchers at the Cedar-Sinai medical center found that capsaicin, a substance found in hot peppers like habanero, jalapeno and chili, triggered suicide of prostate cancer cells. According to researcher Dr. Soren Lehmann, it also significantly slowed development of prostate cancer cells in rats. Hot peppers also contain antioxidants that help neutralize free radicals, potentially harmful substances that are produced as a result of metabolic and lifestyle factors. Garlic is another ingredient in spicy food that has a positive effect on cancer, both as a preventative and as an immune booster that helps your body fight existing cancer cells.
Weight Loss
A 1999 study published in the "British Journal of Nutrition" investigated the relationship between hot pepper consumption, appetite and caloric intake. Subjects were fed a breakfast and lunchtime appetizer that included red pepper. Caloric intake and appetite were measured before and during consumption of lunch and an afternoon snack. The researchers concluded that consuming hot peppers suppressed the appetite and decreased total caloric intake of Japanese females and Caucasian males. A 2006 study published in "the American Journal of Clinical Nutrition" showed that chilli pepper consumption improved blood sugar and insulin regulation after a meal. Both studies suggest that consumption of hot peppers contained in spicy foods might be helpful for treating obesity.
Concerns
The University of Maryland Medical Center warns that hot peppers might increase stomach acidity, increase the risk of bleeding from blood-thinning medications and decrease the effectiveness of aspirin. Consult your doctor about consuming spicy food if you have a stomach or intestinal problem, or are taking blood-thinning medications or aspirin.