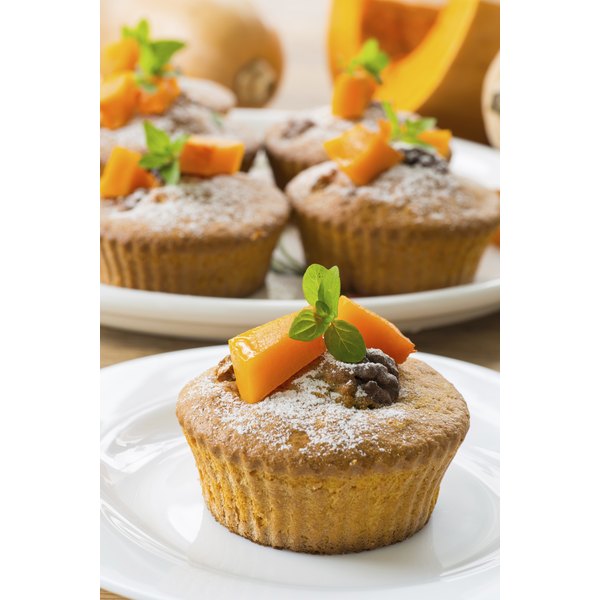 Dunkin' Donuts' pumpkin muffin provides nutritional value in the form of vitamins, fiber and protein. However, it is quite high in calories, fat and sugar. It might be best to consume this muffin only as an occasional treat.
Calories
Dunkin' Donuts' pumpkin muffin contains 600 calories. This is generally too many calories for a snack or breakfast – snacks should contain 100 to 200 calories, and breakfast ideally has 350 to 500 calories. Consider either consuming half of a muffin or making lower-calorie pumpkin muffins at home. If you follow a 2,000-calorie daily diet, the number of calories in a pumpkin muffin from Dunkin' Donuts accounts for 30 percent of your allowable daily calories.
Fat
A Dunkin' Donuts pumpkin muffin is quite high in fat, with 26 g per muffin. This accounts for 39 percent of the calories. Aim to consume 20 to 35 percent of your daily calories from fat; 6 g of the muffin's fat is saturated. Avoid consuming more than 10 percent of the calories in your diet from saturated fat.
Carbohydrates and Fiber
A pumpkin muffin from Dunkin' Donuts contains 83 g of carbohydrates, an amount that significantly helps meet your daily nutritional needs of 225 to 325 g of carbs. Your body uses the carbs in this muffin for energy, although this is not a very healthy option to obtain carbs. You also take in 3 g of fiber. An ideal intake of fiber stands at 22 to 34 g daily.
Protein
Eat a pumpkin muffin, and you introduce 7 g of protein into your diet. The protein in this Dunkin' Donuts muffin contributes to the effectiveness of your immune system, as well as the energy you have in store. You need a greater quantity of protein, though, for best health – 50 to 175 g per day if you adhere to a 2,000-calorie diet.
Sugar
One pumpkin muffin eats up your entire daily sugar allowance and then some, with 44 g of sugar. The American Heart Association-recommended daily maximum intake is 25 g if you are a woman or 37 g if you are a man. A study published in the 2011 issue of "Current Pharmaceutical Design" indicates that you can develop an addiction to sugar.
Vitamin A
The pumpkin muffin available through Dunkin' Donuts is a good source of vitamin A. Each muffin provides 60 percent of the daily recommended intake of this vitamin, which benefits your eyes. Getting enough vitamin A though pumpkin muffins and other foods helps prevent cataracts and night blindness.