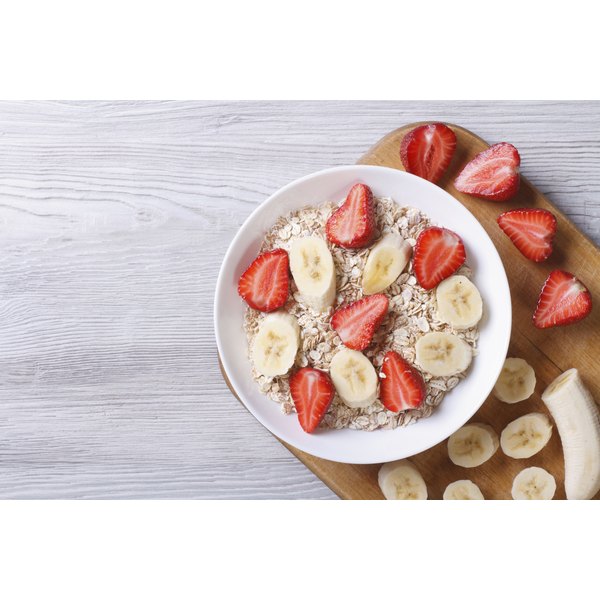 The American Diabetes Association recommends whole grains, like oatmeal, as a good way to increase soluble fiber in the diet. Soluble fiber can help improve blood glucose control by slowing the absorption of sugar from the digestive system. Oatmeal can lower low density lipoprotein, or "bad" cholesterol, when it's consumed daily. People with diabetes have at least double the risk for heart disease, according to the American Heart Association, and lowering cholesterol is one way to help reduce the risk for heart disease.
Benefits of Oatmeal
A December 2013 article in "Forschende Komplementärmedizin/Research in Complementary Medicine" reported that eating oatmeal may help improve sensitivity to the blood-sugar-regulating hormone insulin in obese people with poorly controlled type 2 diabetes. Another study in the August 2012 issue of "Nutrition Journal" found that people who consumed oatmeal daily for 6 weeks, as part of a low-fat diet based on nutritious whole foods, decreased waist size by 1/2 inch and reduced LDL cholesterol by 15 mg/dL. The control group in this study ate wheat noodles instead of oatmeal and experienced a 1/3-inch gain in waist size. LDL cholesterol dropped by 7 mg/dL in the control group.
All Oatmeal Is Not Created Equal
Steel cut oats are the least processed and cook in about 45 minutes. Rolled oats are slightly processed to reduce cooking time, but they still contain the whole grain and cook in about 10 minutes. Quick-cooking oats cook in even less time. Instant oatmeal contains less fiber and often contains added sugar, although plain instant oatmeal without added sugar is available. One cup of cooked oatmeal contains about 27 g of carbohydrates. Healthy toppings include a sprinkle of chopped nuts, cinnamon, berries or other fruit and low-fat milk.