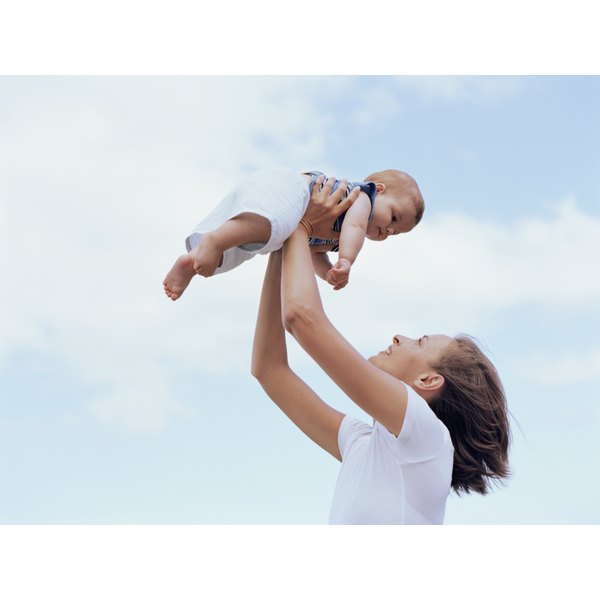 If you operate a child care center, you likely prepare and provide meals for the children left in your care. Certain rules and regulations govern the health and nutritional aspects of any meals you serve to the children attending your center. It is important to make healthy menus because young children need certain nutrients in order to grow and develop properly. Knowing what types of foods to serve for each meal and snack will help you create a healthy and nutritious menu that serves the children in your care well.
Breakfast
If your child care center supplies breakfast to the children, it is essential to offer nutritious foods that get them off to an energized start. Milk should always be included in the breakfast meal you offer, National Network for Child Care reports. Fresh fruit, such as oranges, bananas, peaches or berries, should also be included in any morning meal because they supply nutrients like vitamin C and potassium. Whole grains, such as breakfast cereal, oatmeal or whole wheat toast, will round out a healthy breakfast. Post your breakfast menu ahead of time so parents are aware of what you plan to serve if they drop off their children early in the morning.
Lunch
Lunch is the most common meal served at child care centers and should provide a healthy balance of protein, fiber, healthy fats, vitamins and minerals. Peanut butter sandwiches with fresh fruit and vegetables and a glass of milk is a nutritious midday meal that supplies protein, fiber and calcium. A grilled cheese sandwich with tomato soup, fruit and milk is another nutritious lunch menu that supplies fiber, vitamin C and calcium. Another protein and fiber-filled option is whole wheat pasta with tomato sauce and sliced chicken. Check with parents ahead of time to determine if any of the children in your care have food allergies before posting your menu.
Dinner
Some centers keep children late into the evening, and if you do the same, you will need to provide a nutritious dinner at an appropriate time. The children need a healthy source of protein, such as lean chicken, fish or beef. You will also need to supply a serving of vegetables, such as carrots, green beans or broccoli, which will provide vitamin A and fiber. A glass of milk is a crucial part of the evening meal and will supply the children with a healthy dose of calcium, as well as some protein. Let parents know what you plan to serve ahead of time in case they have any dietary requests.
Snacks
One or two snacks per day is another part of your daily meal plan when caring for children in a day care setting. Children need snacks between meals to fuel their bodies and to keep them from getting too hungry between mealtimes. Snacks can also supplement vitamins and minerals that may be lacking from the children's diets, particularly if they are picky eaters. Healthy options include cheese and crackers, fresh fruit or vegetables, popcorn or dry cereal.