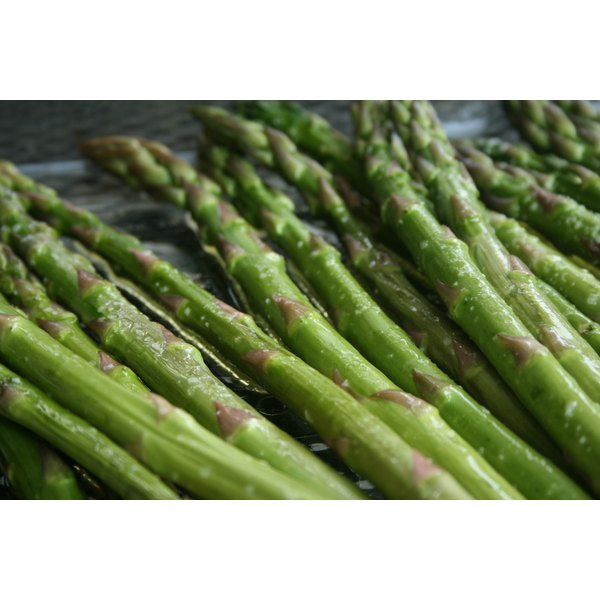 Asparagus is a unique spring vegetable with a fresh, crispy texture when cooked just right. According to the Michigan Asparagus Advisory board, asparagus is rich in fiber, potassium and Vitamin B6, in addition to folic acid, thiamin and vitamins A and C. Preparing asparagus in a skillet enables you to cook it hot and fast, preserving its nutrients and its bright flavor. Skillet cooked asparagus needs little seasoning: this method showcases the vegetable at its finest, allowing it to shine on its own.
Bend the tip end of each asparagus spear until it breaks. The point at which it breaks is the point at which it becomes tender rather than tough. Discard the stem ends. You can perform this step with four or five asparagus spears at a time.

Cut the asparagus spears into 2-inch lengths.

Mince three pieces garlic into pieces no larger than grains of rice.

Heat 2 Tbsp. olive oil in a medium-size skillet.

Add the garlic and cook on medium-low heat for about 30 seconds, until you can smell it.

Add the asparagus and 1/2 tsp. salt. Cook for about three minutes, stirring often, until the spears turn bright green. Test a spear to make sure it is tender and cooked through.

Turn off the heat and add the juice of half a lemon.

Tip

Use more or less salt, oil, garlic and lemon juice, if desired.

If desired, substitute butter for olive oil.