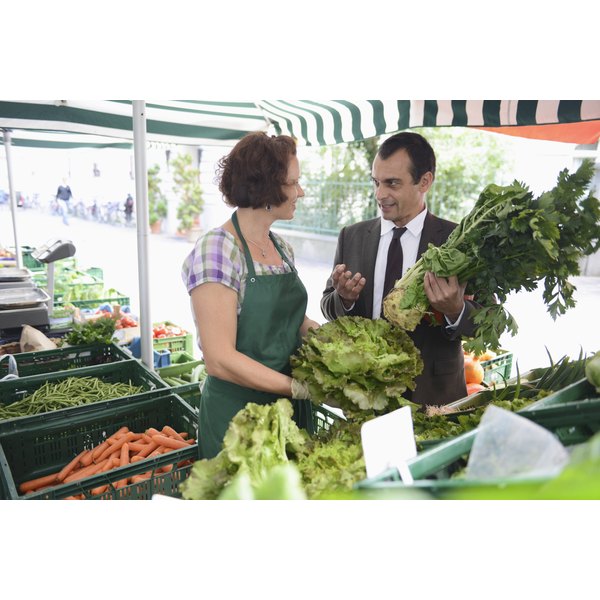 When it comes to eating, a wide variety of recommendations exist, whether it's to eat like your ancestors, abstain from animal foods, cut out grains or lower carbohydrate intake. Joel Fuhrman presents a different and perhaps more practical approach, which he describes in his book "Eat to Live." Fuhrman coined the phrase "nutritarian" to describe a way of eating based on the nutrient density of food. This method of eating can help you lose weight, keep it off and improve your health, according to Fuhrman.
The Premise of Nutritarianism
It's not sufficient to just avoid fats, lower intake of animal foods or follow a low-glycemic eating pattern, according to Fuhrman. His Eat to Live diet recommends a nutritarian approach to eating. The goal is to focus on foods with a high nutrient-to-calorie ratio. For optimal health, it's crucial to eat foods that provide the richest concentration of nutrients, according to Fuhrman. A nutritarian diet places emphasis on vegetables and fruits, since they have the highest concentration of nutrients compared to calories.
Nutrition Index
Fuhrman developed what he calls the Aggregate Nutrition Density Index as a method of measuring the nutrition quality of food. It's calculated by evaluating nutrition factors such as the ratio of micronutrients to macronutrients. The index ranges from 1 to 1,000, with 1,000 being the most nutrient-dense. "Micronutrients" refers to vitamins, minerals, phytochemicals and antioxidants, and "macronutrients" refers to carbohydrates, protein and fat, all of which provide calories. Foods with a high index rating contain a high amount of micronutrients, compared to macronutrients. Foods with a low index rating contain a higher ratio of macronutrients compared to micronutrients.
Food Scoring Guide
Fuhrman created a food scoring guide designed to help you identify foods highest in micronutrients as well as those low in micronutrients. Green leafy vegetables top the Aggregate Nutrition Density Index list, having as the most nutrient-dense foods. Kale, collards, watercress, turnip greens and mustard greens have a rating of 1,000. These greens are followed by bok choy, spinach, brussels sprouts, Swiss chard, arugula, radish and cabbage. Other foods possessing a high rating include bean sprouts, red peppers, romaine lettuce, broccoli, and cauliflower.
What the Science Says
Researchers at the University of California, Los Angeles, examined the benefits of a high-nutrient-density diet on long-term weight loss. After seeking nutritional counseling for weight loss, a small group of patients followed a prescribed high-nutrient-density diet. Upon followup at the one- and two-year marks, researchers found that this diet produced a significant amount of weight loss and resulted in significant decreases in triglycerides and cholesterol. In addition, patients sustained weight loss throughout the followup periods. The results were published in the May 2008 edition of the journal "Alternative Therapies in Health and Wellness."