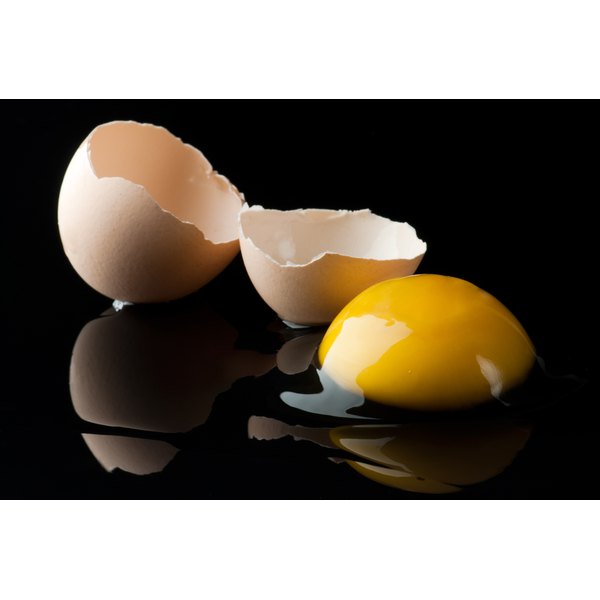 If you are looking to lose weight, eggs can be a good food to add to your diet. However, for safety reasons, you should avoid eating raw eggs to lose weight. Raw eggs can be contaminated with salmonella and cause food poisoning. Instead of using raw eggs to lose weight, cook eggs until firm and serve for breakfast to decrease appetite.
Egg Benefits
A 2007 study found in "The FAESB Journal," concluded that a breakfast which includes eggs promotes weight loss. Over the course of eight weeks, participants consumed two eggs each morning five days a week for breakfast. Subjects who consumed eggs lost 65 percent more weight than the control group who ate bagels for breakfast. It was speculated that eggs helped individuals lose weight by keeping them sated for longer periods of time.
Significance
According to the United States Department of Agriculture, eggs should be cooked until both the whites and the yolk are firm to reduce chances of infection from salmonella. Keep calories low by cooking the egg using a healthy heating method such as sautéing with non-fat butter spray, poaching or boiling. Raw eggs should not be used to prepare weight loss shakes.
Features
In a single large egg, you'll consume 70 calories and 4.75 g of fat. To reduce calories and fat intake even more to lose weight, you may want to consider an egg substitute product. For instance, ¼ cup of a liquid egg substitute contains only 29 calories and 0 g of fat. Egg substitutes contain eggs, so they should also be consumed only when cooked to firm.
Warning
If you do consume raw eggs, look for the signs of salmonella infection. Symptoms include diarrhea, stomach pain, chills, fever and vomiting. In the elderly and individuals with compromised immune symptoms, salmonella infection can be deadly. Besides cooking eggs, wash your hands while handling the shells of raw eggs.