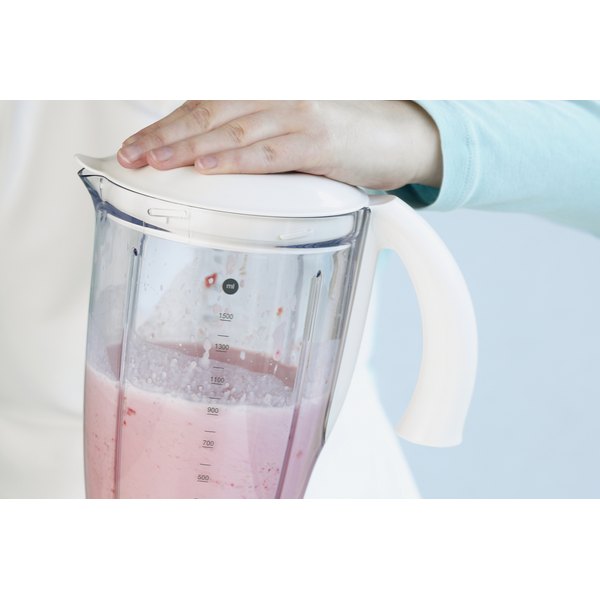 Smoothies are a good staple in your diet, whether you are looking to lose fat or get extra nutrients. Fiber, fresh fruits and protein will help to boost your metabolism, while adding healthful fats will help your body burn fat. Include the combination to reap health benefits by allowing your body to do what it is meant to do -- balance itself, shedding body fat naturally through proper nutrition.
Fresh Fruit Smoothies
Most fruit smoothies will help your body burn fat. The live enzymes in fresh fruit digest easily, while antioxidants fight free radicals. Try a low-glycemic cardamom-pear smoothie that has added protein and fiber to help shed body fat.
Put 1 pear, cored and roughly chopped, 1/2 cup plain yogurt, 1/2 cup water, 1 tablespoon flax seeds, a pinch of cardamom, 1/2 cup soy or nut milk and a few ice cubes in a blender. Blend until smooth. Serve with hulled green pumpkin seeds on top and eat it with a spoon.
Fruity Green Tea Smoothie
Green tea stimulates the metabolism, has potent antioxidants and preventative and protective qualities. Avocado has a next-to-nothing effect on blood sugar levels and contains enzymes that help metabolize other fats.
For two fruity green tea smoothies, brew 1 cup of green tea and let it cool. Pour it into a blender with 1/2 cup almond or soy milk, 1/2 of an avocado, 1 cup of frozen strawberries, a few fresh mint leaves, 1 scoop vanilla whey protein powder and one to two packets of stevia, if desired. Serve with a sprinkle of granola on top. Eat with a spoon.
Creamy Coconut Smoothie
This smoothie contains healthful fats from coconut. According to Lisa James of Energy TImes, the medium chain triglycerides in coconut increase the rate at which the body burns energy. Flax and whey protein also aid in weight loss and provide energy and satiety. Pineapple contains bromelain, an enzyme that assists in the digestion of proteins. In the blender, add 1/2 can well mixed unsweetened coconut milk, but not low fat, 1 cup chopped papaya, 2 teaspoons flax seed oil, 1 scoop vanilla rice or whey protein, 1/2 cup frozen pineapple or pineapple juice and 1/2 cup of ice and a little water, if needed, for ease of blending. Blend until smooth. Sprinkle with shredded coconut.
Suggestions
An hour before a workout, have a fruit smoothie with added grains such as soaked oats, along with a tablespoon of coconut oil and some protein powder.
After a workout, a fruit and protein smoothie with flax seed oil will help pump the protein into the muscles while the simple fruit sugars restore lost glycogen. For intense weight training, you may sip a smoothie like this for continued support throughout your workout. Choose refreshing, easily digestible fruits such as watermelon, orange, or berries. Eating these fruits alone is beneficial following a workout.