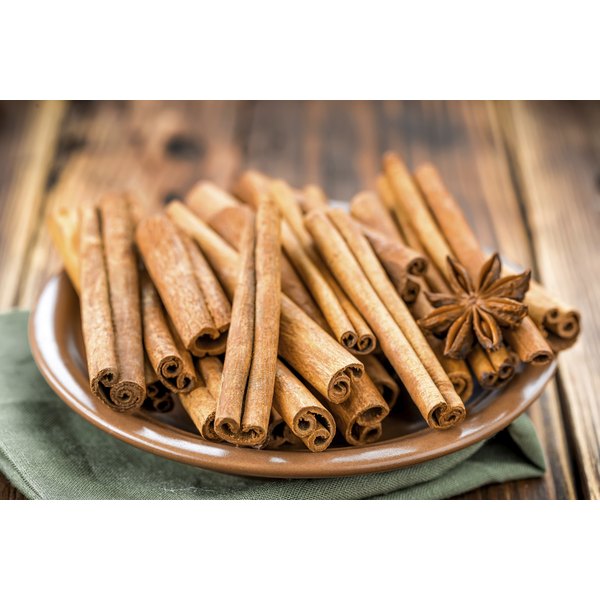 You may have heard that cinnamon has the potential to lower blood sugar. And with type 2 diabetes on the rise as of 2011, it might be useful to know how much cinnamon you need to lower your blood glucose.
The Centers for Disease Control and Prevention report that 24 million people have type 2 diabetes and it is the seventh leading cause of death. Lifestyle interventions are needed to lower incidence and mortality from type 2 diabetes. All avenues of treatment and prevention need to be explored.
Cinnamon Lowers Blood Sugar
Cinnamon and cinnamon extract could be used as a complementary and alternative medicine to prevent diabetes and in diabetes management. A meta-analysis of eight randomized place-controlled clinical trials in the "Journal of Medicinal Food" found that cinnamon and cinnamon abstract lowered fasting blood glucose. Blood sugar dropped on average by about one-half a point, and decreases ranged from about one-third to three-quarters of a point.
Two Grams of Cinnamon
A clinical trial with 58 people with type 2 diabetes involved the administration of 2g of cinnamon over 12 weeks. Patients who took cinnamon along with their prescribed medication had significantly lower average blood glucose levels at the end of 12 weeks compared to patients who took only their prescribed medication. Average blood glucose dropped from about 189 to 180 mg per deciliter of blood with the addition of 2g of cinnamon.
Three Grams of Cinnamon
Healthy individuals may benefit from cinnamon supplementation. Three grams of cinnamon given daily over a two-week period improved the body's response to the blood sugar-lowering hormone insulin. Effects of cinnamon on controlling glucose were seen on the same day.
More Research is Needed
Per research, 2 to 3g of cinnamon per day can significantly improve fasting blood glucose and the body's response to insulin. Improvements, however, are not long term and stop as soon as cinnamon supplementation is stopped. There is limited research on cinnamon and the mechanism by which it helps lower blood sugar. Before cinnamon supplementation is recommended by health care professionals, more clinical trials are needed. Do not begin taking cinnamon supplements unless you are advised by your doctor. Conventional medicine, diet and exercise is still the best treatment for controlling blood sugar.