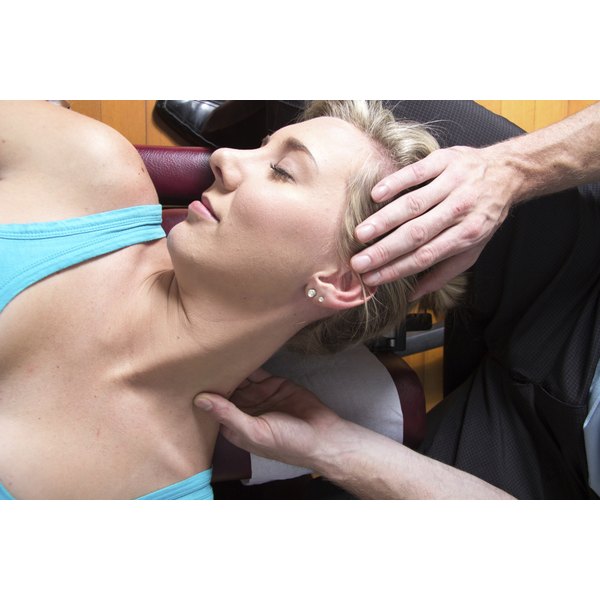 Twenty-four vertebrae comprise your spine. Your spinal column is your body's principle support structure that allows you to perform numerous movements, including bending and twisting. Nerves, muscles, ligaments and tendons contribute to a healthy spine. Nutrition supplements may help treat spine-related conditions and improve your spine health, but you should be aware of the risks associated with supplementation before using these natural substances.
Spine Problems
There are numerous possible spine-related problems. According to Medline Plus, possible spine-related problems include infections, injuries to your spinal structures, tumors, scoliosis, ankylosing spondylitis, spinal stenosis or a narrowing of your spinal canal, herniated discs and bulging discs. Osteoarthritis, also known as degenerative joint disease, is a common spine-related condition that causes pain or discomfort and reduced spine active range of motion. Many spine problems tend to occur in your cervical spine, or neck, and lumbar spine, or lower back.
Helpful Supplements
Two of the most common spine-related problems are osteoarthritis and nerve pain. Helpful supplements for osteoarthritis include methionine, niacinamide, chondroitin sulfate, devil's claw, glucosamine sulfate, vitamins E and C, superoxide dismutase and pantothenic acid, says Joseph E. Pizzorno Jr., M.D., a naturopathic physician and author of "The Clinician's Handbook of Natural Medicine." Helpful supplements for nerve pain include oats and St. John's wort. Further scientific studies may be necessary to examine the true health effects of these dietary supplements.
A Useful Supplement
Devil's claw is a useful -- and popular -- dietary supplement used in treating spine-related conditions or improving spine health. Devil's claw is commonly used in treating lower back pain, arthritis and rheumatic problems, states Ed Smith, an herb expert and author of "Therapeutic Herb Manual." Pizzorno notes that devil's claw has anti-inflammatory and pain-relieving action that is similar to the prescription drug phenylbutazone -- a non-steroidal anti-inflammatory drug commonly used in treating painful conditions.
Additional Information
In most cases, a multimodal approach is the most effective way to improve your spine health. Dietary supplements should be used in combination with postural exercises, strength training and other healthy lifestyle habits to help you achieve optimal spine health. Some dietary supplements may not be appropriate for you. Always exercise great caution when ingesting dietary supplements, as certain supplements may provoke unwanted health side effects. A physician trained in clinical nutrition should counsel you on the most applicable supplements for your condition.