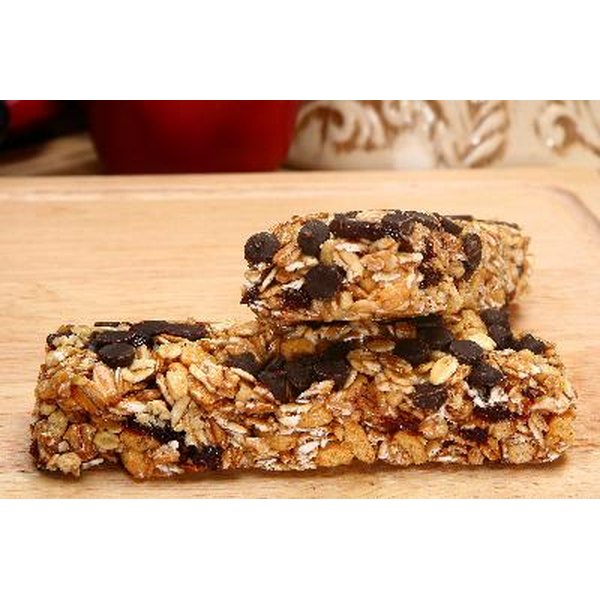 Loaded with sugar, oils and artificial ingredients, some so-called "healthy" snack bars are closer to a candy bar than a nutritious snack. A truly healthy snack bar should have no added sugar, oil or artificial ingredients. Read your labels closely and look for snack bars that contain only whole food ingredients, including fruits, nuts and whole grains.
Larabar
Larabar snack bars are made with whole food ingredients without artificial ingredients or added sweeteners. They are gluten free and include a limited ingredient list, excellent for people with allergies or on special diets. According to the company website, Larabars contain from two to nine ingredients, depending on the flavor. The Cherry Pie flavor contains only three ingredients: dates, almonds and cherries. It contains a full serving of fruit, 5 grams fiber and 5 grams protein to help fill you up on the go.
Probar
The Original Probar is made from whole grains, nuts and fruit and comes in eight flavors, such as Whole Berry Blast and Nutty Banana Boom. Each bar is certified organic, 100 percent vegan and contains 80 percent raw ingredients, resulting in a minimally processed nutritious snack. The bars are a good source of omega-3 and 6 and offer 8 to 12 grams of plant-based protein. Probars provide a nutritious source of energy with no artificial ingredients. Added sweeteners are present — brown rice syrup and evaporated can juice — so be aware if you are on a calorie- or sugar-restricted diet.
Kind Fruit and Nut Bars
Made from fruit, nuts and whole grains, Kind Fruit and Nut bars are a healthy snacking alternative when you're too busy to stop for a meal. Most bars contain a mix of nuts: brazil nuts, almonds, peanuts and walnuts. Also present are fruit, whole grains and extras such as flax seed oil, providing a good source of omega-3 fatty acids. Nut proteins and natural sugars from fruits give you a boost of energy, while the whole grains provide a source of carbohydrates to get you to your next meal. No artificial ingredients are found in these bars, but they contain added sugar — honey and glucose.
Zing Energy Bars
Zing bars combine nuts, fruit and grains in a wholesome 100-percent natural and portable snack that dietitians created to provide optimal nutrition and energy for people on the move. Zing bars provide a good source of protein and carbohydrates when you have to skip a meal or need to replenish energy before, during or after a workout. All varieties are gluten-, soy- and corn-free and sweetened with organic agave syrup.