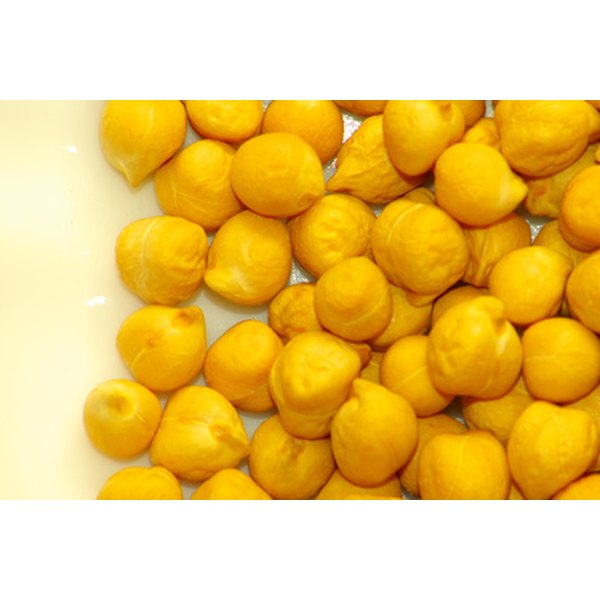 Garbanzo beans, also known as chick peas, are a favorite food for many people. In his book, "The 150 Healthiest Foods on Earth," clinical nutrition specialist Jonny Bowden, Ph.D. lists garbanzo beans among the 150 more healthful foods that you can eat. Garbanzo beans are naturally low in fat, high in protein and rich in fiber, which makes them ideal for a weight-loss diet.
Weight Loss Principles
If you are a newbie to dieting or just trying to lose weight for the first time, it is important for you to understand how weight loss works so you can achieve your goals. Weight loss occurs by burning off more calories than you consume on a daily basis. This is referred to as a "caloric deficit." Exercise can help increase the amount of calories you burn, but lowering calories in your diet is usually a more efficient way to create a caloric deficit. This can be done healthfully by eating low-calorie foods in place of high-calorie foods and not eating more than a serving size during meals.
Garbanzo Beans for Weight Loss
Garbanzo beans or chickpeas are an ideal food for your weight loss diet because they are fairly low in calories, nearly void of sugar and high in dietary fiber. One cup of canned or boiled chickpeas is about 270 or 280 calories. Since they are quite filling, 1/2 cup will likely satisfy your appetite. Chickpeas are ideal for weight loss because they are a low glycemic food that will not raise your blood sugar level. Garbanzo beans have a glycemic index ranking of 33, which is a lower than canned kidney beans, canned baked beans and broad beans. Additionally, the dietary fiber in garbanzo beans helps to decrease the amount of glucose that is absorbed into your bloodstream, which keeps your blood sugar low and discourages your body from storing fat.
Garbanzo Beans Curb Your Appetite
According to Bowden, garbanzo beans curb your appetite and can help prevent overeating. Even though garbanzo beans are not a high-calorie food, they are filling food that can satisfy your appetite. Bowden explains that garbanzo beans have 12.5 g of fiber per cup, making them a dietary fiber "heavyweight" food. High fiber foods have a lot of volume, but often not an exceeding high amount of calories. The soluble fiber in garbanzos keeps your blood sugar low which keeps you from craving food as well. Aside from just being a salad bar mainstay, chickpeas would be a welcome addition or replacement to any meal, allowing you to eat fewer calories and feel full quicker.
Hummus
While you may feel that whole chickpeas have limited uses, you might enjoy chickpeas in another form. Hummus is boiled chick peas that have have been mashed into a fairly thick paste, with garlic, a bit of olive oil, lemon and salt. The Centers for Disease Control and Prevention recommends eating hummus to help you lose or manage your weight. It is a perfect addition to your diet if you do not particularly like eating raw vegetables. Raw vegetables and hummus are an ideal nutritious low-calorie snack that will fill you up and support your dieting efforts.