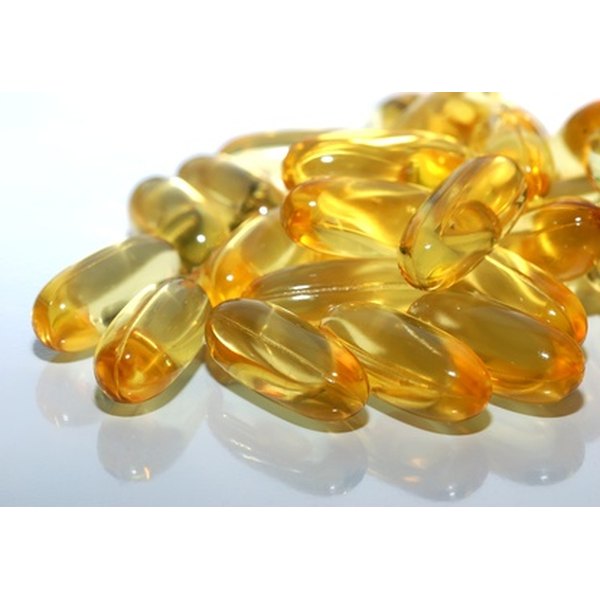 Olive oil is extracted from the ripe fruit of the olive, or Olea europaea, tree that is native to the Mediterranean region. A monounsaturated fatty acid known as oleic acid and a polyunsaturated fatty acid known as linoleic acid are the main components of olive oil. Fish oil is obtained from fish such as salmon, tuna, sardines, anchovies and herring. It consists of an essential fatty acid known as omega-3 fatty acid. While olive oil is available for cooking and as capsules, tablets and tinctures, fish oil is generally obtained from supplements or by eating fish.
Benefits of Olive Oil
Olive oil is widely used as a salad oil and for cooking. It can also be used as a base suspension for injections and ointments. Intake of olive oil is associated with lower systolic blood pressure, reduced risk of cardiovascular diseases and increased insulin sensitivity. In a study published in the September 2004 edition of the "Journal of American Medical Association," researchers found that consuming 8 grams of olive oil per day for two years reduced the prevalence of metabolic syndrome, which includes diseases such as coronary artery disease, stroke, and type 2 diabetes. Olive oil may help prevent certain type of cancers, including those of the breast, colon and larynx. It is a rich source of anti-oxidants and prevents free-radical damage of tissues and organs, which may be responsible for aging. It can improve rheumatoid arthritis and lower your risk of dental infections.
Side Effects of Olive Oil
Olive oil is generally safe to use as part of your everyday diet. Excessive intake, however, may lead to mild diarrhea. Its drug interactions have not been well documented. Talk to your doctor before taking any olive oil supplements. Remember to check the product for purity and quality before using it.
Benefits of Fish Oil
The omega-3 fatty acids in fish oil play a crucial role in brain function, as well as growth and development. The human body, however, cannot synthesize this oil endogenously, and it has to be obtained from diet or supplements. The University of Maryland Medical Center says that fish oil may reduce the risk of cardiovascular disease by lowering blood cholesterol levels and managing blood pressure in hypertensive patients. Fish oil supplements reduce inflammation of joints in rheumatoid arthritis patients. They may also alleviate symptoms of bipolar disorder, schizophrenia and depression. In addition, they may reduce menstrual pain and asthma.
Side Effects of Fish Oil
Gas, bloating and diarrhea are the common side effects associated with fish oil supplements, and although they may help those with diabetes maintain healthy hearts, they could slightly increase blood sugar levels, according to the University of Maryland Medical Center. The supplements may also interact with certain blood-thinning and cholesterol-lowering medications. Dosage may vary, depending on your age and overall health. Therefore it is best to consult a doctor before using fish oil supplements.