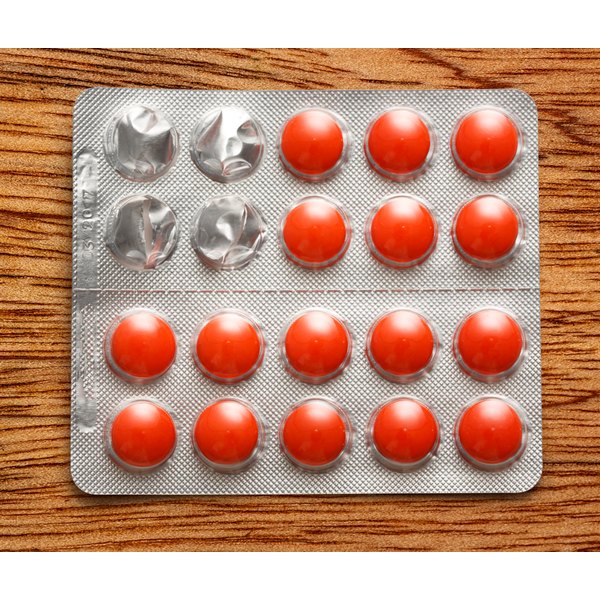 Approximately 3 to 5 percent of all children are diagnosed with ADHD, or Attention Deficit Hyperactivity Disorder, the University of Maryland Medical Center states. Boys are more likely to exhibit symptoms than girls. Symptoms commonly include a person's inability to concentrate, hyperactivity and acting on impulse. Treatment methods often include a combination of prescription and behavioral therapy. Research is ongoing in the area of using supplements on ADHD patients, and there have been many conflicting results; always consult your physician prior to adding a supplement to your diet.
Zinc
Zinc is the only supplement which shows significant promise in the management of ADHD symptoms, a 2009 report published in the "Expert Review of Neurotherapeutics" determined. According to MedlinePlus, some research has shown that zinc levels measured in the blood of ADHD patients are lower than those of other children, and a supplement may improve some symptoms – though much of this has taken place in Middle Eastern countries only, where a zinc deficiency is more likely.
Omega-6 and Omega-3 Fatty Acids
Current research investigating the effect of increasing blood levels of omega-3 and omega-6 fatty acids on ADHD patients is also lacking, according to the University of Maryland Medical Center. Some studies have shown that levels of these essential fatty acids, which are vital to proper behavior, are also lower in children with ADHD. A 2006 study published in "Prostaglandins, Leukotrienes and Essential Fatty Acids" found that supplementing with a combination of flaxseed oil, which contains omega-3 fatty acids, and vitamin C created a reduction in the ADHD symptom of hyperactivity.
Magnesium
More recently, in a 2010 study published by "Lipids in Health and Disease," a study conducted on children with ADHD found that a combination of omega-3 and omega-6 fatty acids, magnesium and zinc presented an overall reduction in symptoms. Researchers also determined that there were no adverse reactions to this treatment in the study, so combining these supplements may be a safe recommendation under the direction of your doctor.
Iron
Iron supplements may be beneficial to those who have ADHD. This may be because the symptoms of ADHD are similar to those who have an iron deficiency, the University of Maryland Medical Center states. However, if your child has normal iron levels, supplementation can be toxic, so check with your doctor first.