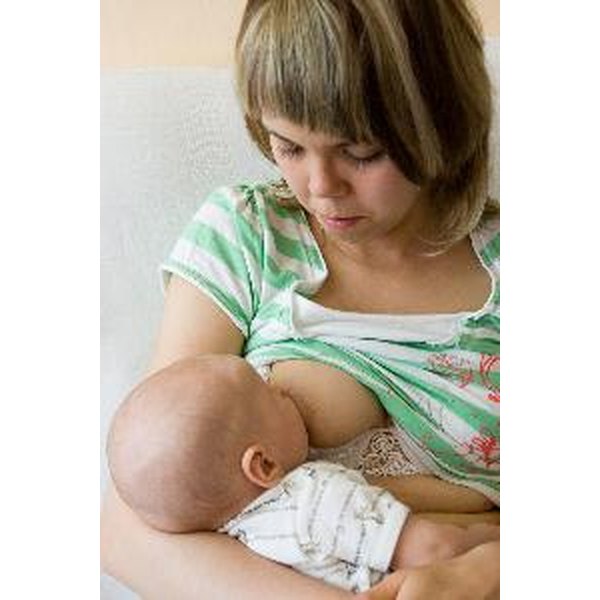 Breastfeeding is a healthy choice for new mothers and it helps to provide your baby with the important nutrients she needs for healthy growth and development. Some women may find their milk supply lacking, or have problems with breastfeeding, and herbal supplements or teas may be helpful for lactating women. Because these herbs can be excreted through breast milk, it is important to check with your doctor before using any supplements to make sure they are safe for you to consume.
Fenugreek
Fenugreek is an herbal supplement that is also used as a flavoring in food. It can be taken orally to help treat loss of appetite or upset stomach, or applied topically to treat eczema or inflammation, says Drugs.com. This herb is also used by women who are breastfeeding to help stimulate milk production, states the National Center for Complementary and Alternative Medicine. It may be taken in pill form, tincture, or as a tea; follow the directions on the packaging for appropriate dosing, suggests Drugs.com. Before using fenugreek, make sure it is safe for you to take by talking with your doctor.
Blessed Thistle
Blessed thistle is a plant that has been used since the Middle Ages to treat a variety of conditions, including digestive problems, fever and headache, according to Drugs.com. It is added to homeopathic remedies and used by itself. While there is no clinical evidence to support its use in stimulating milk production in lactating women, Breastfeeding.com states that this herb may be helpful for some women in increasing milk production. Due to the lack of evidence, it is not known what a safe dosage is, so ask your doctor about a small amount of blessed thistle and whether it is safe to use while breastfeeding.
Fennel
In addition to being a sweet, anise-like flavoring, fennel has been used as an herbal remedy to increase lactation, stimulate menstruation, as an insect repellent and to alleviate gastrointestinal problems. There is no clinical evidence that fennel helps increase milk production, but many women have used it during breastfeeding. The oil from the fennel plant should not be used, as it can be toxic; fennel tea made from crushed fennel seed is safe to use, says Breastfeeding.com. Although it is considered safe, consult your doctor before consuming any fennel product while breastfeeding.
Considerations
Though herbal supplements are natural, they may still interact with medications or cause adverse side effects. Before using any herbal supplements or products, ask your doctor or your baby's pediatrician if it is safe for you to take the product. If you get the OK, follow the dosing instructions on the package or any special instructions the doctor has given you. Do not take more than suggested.