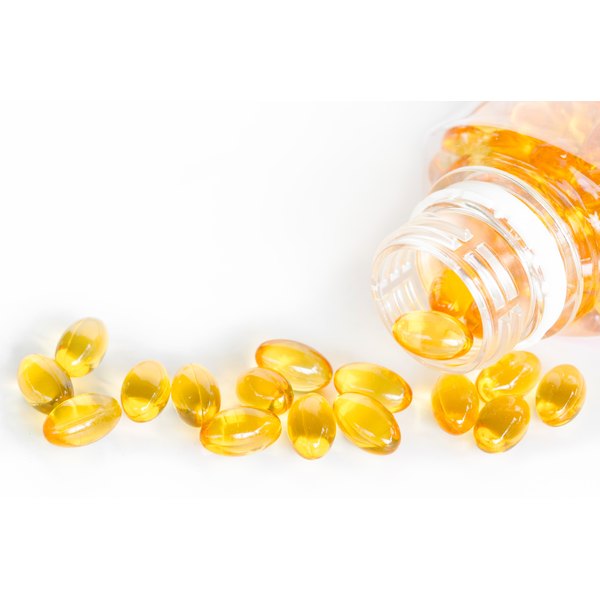 Asthma is a respiratory condition that occurs when the lungs and airways become inflamed and constricted following exposure to a trigger such as stress, environmental pollutants or pet dander. The lungs also produce a thick mucus which makes breathing difficult and causes wheezing and coughing. Asthma is controlled with anti-inflammatory drugs and medicines that help the airways to relax. Some dietary supplements including fish oil may play a role in the treatment of asthma but should not be used in place of prescription medicines. Talk to your doctor before adding fish oil to your asthma treatment program.
Properties and Potential Benefits
Fish oil supplements are made from fatty fish such as mackerel, tuna, salmon and cod liver. Fish oil may play a role in the treatment of a wide range of ailments including heart disease, Alzheimer's disease, rheumatoid arthritis, osteoporosis and attention-deficit hyperactivity disorder. Fish oil contains omega-3 fatty acids, which likely confer fish oil's therapeutic benefits. Omega-3 fatty acids are polyunsaturated or "good" fats that may reduce inflammation and asthma symptoms, according to the University of Maryland Medical Center.
Effectiveness
Evidence to show that fish oil can alleviate asthma symptoms is mixed. The results of a study published in the November 2000 issue of the "European Respiratory Journal" show that dietary supplementation with fish oil is beneficial for children with bronchial asthma. However, an analysis of clinical trial findings published in the July 2006 issue of "BMC and Complementary and Alternative Medicine" concludes that it is not possible to say whether omega-3 fatty acids are an effective treatment, either when used alone or in combination with other drugs, for children or adults with asthma.
Side Effects
Taking up to 3 g of fish oil daily is likely safe for most people, according to MedlinePlus, although it may cause mild side effects including belching, bad breath, nosebleeds and loose stools. Taking more than 3 g daily may not be safe as it may increase the risk of bleeding and may also compromise the efficiency of the immune system. MedlinePlus adds that taking large amounts might also raise your cholesterol levels.
Contraindications
Fish oil supplements are not suitable for everyone. Its use is contraindicated in a number of conditions including depression, bipolar disorder, diabetes, hypertension and HIV. It also interacts with other medicines including the weight loss drug orlistat, anti-hypertensive drugs, anticoagulants and contraceptive pills. Get medical advice if you have any concerns or questions about taking a fish oil supplement for your condition.