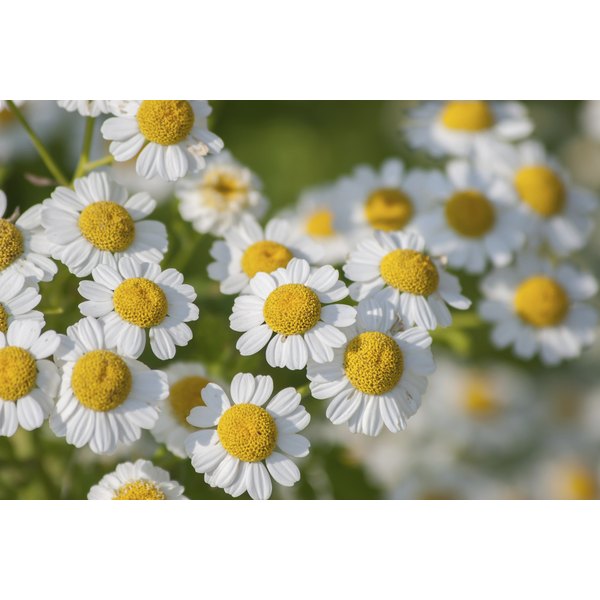 Feverfew, a member of the sunflower family and native to southeastern Europe, is an herbal supplement used to treat migraines and rheumatoid arthritis. Feverfew has also traditionally been used to treat fevers, stomachaches, toothaches, insect bites, menstrual irregularities, psoriasis, allergies, tinnitus, nausea and vomiting; however, there is insufficient evidence to determine whether feverfew is an effective treatment for these conditions.
Adult Dosages
To treat or prevent migraines, take 100 to 300 mg of a feverfew supplement standardized to contain between 0.2 and 0.4 percent parthenolides – the active ingredient in feverfew that works to relieve smooth muscle spasms – up to four times daily. If you are taking carbon dioxide extracted feverfew supplements, take 6.25 mg three times daily, for no more than 16 weeks.
Child Dosages
Feverfew is not recommended for use by children under the age of 2. For older children, adjust the recommended adult dosage of feverfew by your child's weight. According to the University of Maryland Medical Center, dosages of herbal supplements are based on a 150-lb. adult. If your child weighs 75 lb., his dosage would be half of the adult dosage, or 50 to 150 mg of a standardized feverfew extract containing 0.2 to 0.4 percent parthenolides.
Side Effects
Side effects of feverfew include upset stomach, nausea, vomiting, constipation or diarrhea, heartburn, flatulence, bloating, dizziness, nervousness, joint stiffness, trouble sleeping, menstrual changes, rash or weight gain. If you have allergies to ragweed, chrysanthemums, marigolds, daisies or chamomile, you may also react to feverfew. Withdrawal from feverfew may occur if you suddenly stop use after one week. Withdrawal symptoms include headache, anxiety, fatigue, muscle stiffness and joint pain.
Additional Warnings
Feverfew is not recommended for use by individuals who have bleeding disorders or individuals who take anticoagulants, as it may increase the body's tendency to bleed. It should also not be used in combination with herbs or supplements that slow blood clotting, such as cloves, garlic, ginger, panax ginseng, red clover and turmeric. Feverfew is not recommended for pregnant women, as it may cause the uterus to contract and cause premature labor or miscarriage. The herb is also not recommended for women who are nursing.