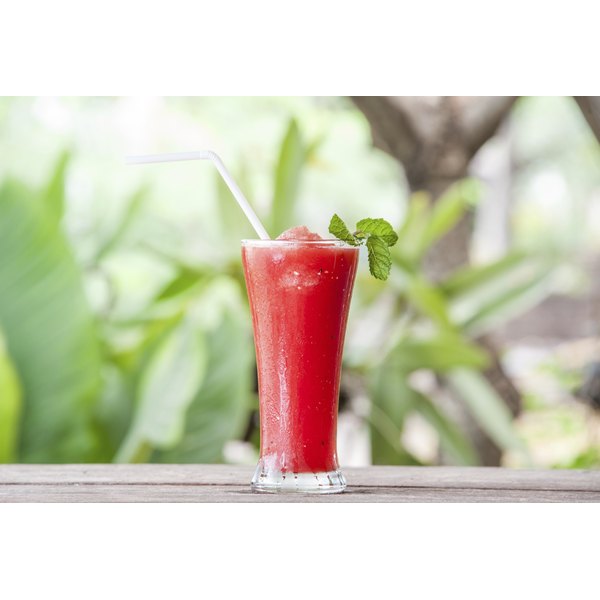 While some people may choose fruit smoothies for their tasty flavor, others turn to them in an attempt to achieve lasting weight loss. When used correctly as a meal replacement, smoothies can be effective for those who want to shed unsightly pounds. Experiment with a variety of fruits to find the flavor combination that works best for you.
Promoting Weight Loss
Before adding fruit smoothies to your diet, understand how weight loss happens. It occurs as a result of a calorie deficit -- or when you eat fewer calories than your body needs to function at its prime. To ensure optimal results, aim for no more than 1 to 2 pounds of weight loss per week. Because there are 3,500 calories in 1 pound of body fat, you will need to achieve a 500- to 1,000-calorie deficit each day to lose 1 to 2 pounds per week.
Fruit Smoothie Nutrition
A fruit smoothie is typically made with frozen fruit and crushed ice -- and is generally quite low in calories. While the sky is the limit when it comes to making a smoothie, one that is composed solely of crushed ice, 8 ounces of frozen strawberries and a small banana offers about 167 calories and 7 grams of fiber. Adding a half-cup of plain non-fat Greek yogurt for creaminess and protein would add 59 calories to the smoothie, for a total of 226 calories. Changing the types of fruit used in a smoothie may affect its overall nutritional composition.
Losing Weight with Smoothies
The relatively low calorie content of a fruit smoothie means that it can be effective as a meal replacement for those who are trying to lose weight. In fact, an individual who replaces a 500-calorie breakfast with a simple frozen fruit and crushed ice smoothie can cut as many as 350 calories from a day in one sitting. Drinking a smoothie at both breakfast and lunch in place of a traditional meal will promote an even greater calorie deficit and speed weight loss. Be sure to incorporate at least one balanced meal per day that features lean meat, low-fat dairy, whole grains and colorful vegetables to meet basic nutritional requirements.
Adding Protein and Fiber
While fruit smoothies are fairly low in calories, they offer a significant amount of fructose, a simple carbohydrate -- which can cause blood sugar levels to spike and may lead to major hunger pains. To counteract these hunger pains and avoid potential binging, consider supplementing your fruit smoothie with protein and additional fiber. Individuals who include a half-cup of plain non-fat Greek yogurt in fruit smoothies will gain 10 grams of protein, or between 18 and 22 percent of the 46 to 56 grams of protein needed each day by women and men, respectively. Adding precooked white beans will not only add to the protein content of your smoothie, but can supplement the naturally occurring fiber in the fruit.