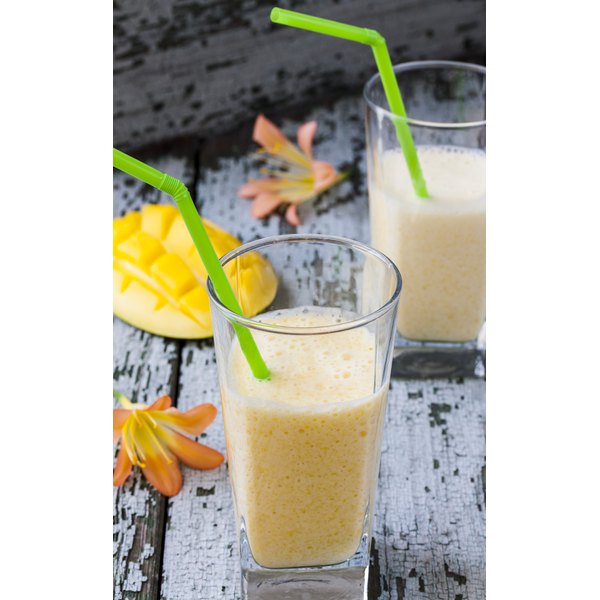 Manufacturers are forever trying to convince women of the things they need. When it comes to pregnancy and breastfeeding nutrition, this is no different. For most women, a healthy diet along with a prenatal vitamin provides all the nutrition they need. Take caution with supplement drinks during pregnancy, as some may be potentially harmful for you or your baby.
Dangers of Excess Supplements
In general, most pregnant women take a prenatal vitamin that should fill in any nutritional gaps of their diet. Getting extra nutrition from the diet is generally not a big deal, because it is harder to overdose on natural vitamins found in foods than those in their synthetic form. According to the American Pregnancy Association, you should avoid taking extra supplements unless advised to do so by a doctor, as getting twice or more of the recommended daily value for fat-soluble vitamins and minerals can actually be dangerous. These include vitamins A, D and E.
Missing Ingredients
Some women worry they are not getting enough of a certain vitamin or mineral, or may feel their diet is low in protein. While drinking a supplement may seem the logical choice, consider that many supplement drinks contain more than the one or two ingredients you may be trying to boost in your diet. Supplement drinks may also contain synthetic vitamins and minerals you don't need, as well as herbs or even caffeine that can be harmful during pregnancy or lactation. If you think you are missing out, check with your doctor or a nutritionist before you hit the health food store.
Herbal Supplement Drinks
Just because something is natural does not make it safe for babies. In fact, there is little research on the effect of herbal remedies during pregnancy and breastfeeding, making it a grey area for both moms-to-be and breastfeeding mothers. Some teas are manufactured specifically for breastfeeding women, with the promise of increasing or maintaining breast milk supply. However, a healthy diet and a healthy demand from baby is all most breastfeeding moms require. While some women who are malnourished or live in deficiency-prone areas may need an extra supplement, it is usually vitamin-related. If you want to try herbal teas during breastfeeding or while you are pregnant, check first with your doctor.
Making Your Own
Nutrients that occur naturally in foods are generally safe during pregnancy and breastfeeding, even when ingested above and beyond the daily recommended guidelines. Make your own healthy supplement drink during pregnancy. For an extra protein blast, make a shake with low-fat milk, peanut butter and wheat germ. Add some frozen fruit for flavor, texture and extra vitamins. If you are looking for a more vitamin-packed drink, invest in a juicer and mix up some nutrient-dense fruits and vegetables. With a little creativity and experimentation, you may find a delicious supplement that is both safe and easier on the pocketbook. Be aware, however, that even homemade supplemental drinks may be higher in calories than you might expect. Drink them in moderation and under the guidance of your doctor.