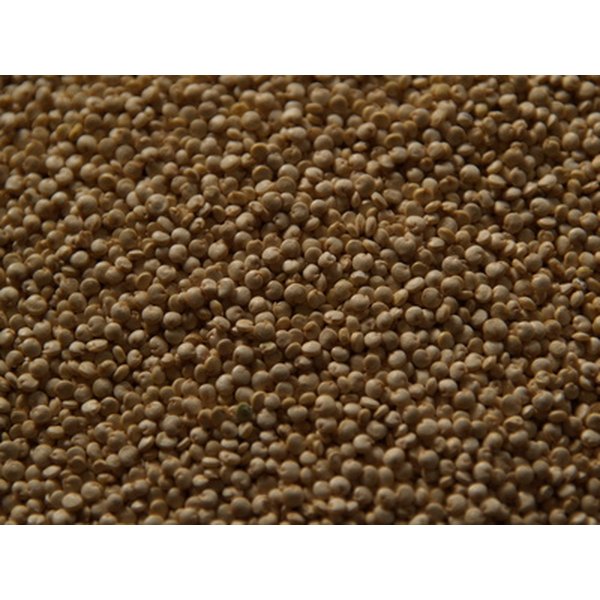 Quinoa, the "Incas gold," is a pseudo-grain of the goosefoot species. This gluten-free food features a unique nutrient structure rare in other food sources. It has the properties of a high-energy food and the attributes of a healthy diet packed with nutrients
High Energy Food
Foods with high proportions of carbohydrates or fats are called high-energy foods. With a carbohydrate content of 59.7 percent, quinoa is a high-energy food. Quinoa also has a 4 to 8 percent fat content, most of which is unsaturated -- the "good" fat. In addition to the carbohydrates, which are mainly complex carbohydrates, quinoa contains 5 percent dietary fiber. Consequently, this pseudo-grain has a low-glycemic index, meaning it won't spike your blood sugar.
Protein Content
The protein content in quinoa ranges from 10 to 18 percent compared to 2 to 8 percent for most grains. Additionally, quinoa contains all of the eight essential amino acid proteins. Excluding soybeans and mushrooms, all eight amino proteins are mostly absent from plant and non-animal sources of food. Amino acids help build muscles and repair damaged tissues.
Minerals and Vitamins
Quinoa is a mineral-rich food. Primary and trace minerals include sodium, calcium, magnesium, potassium, phosphate, selenium, chromium, copper and manganese. Unlike most grains that are poor in trace minerals, quinoa has high levels of trace minerals. The six of the nine essential trace minerals found in significant amounts in quinoa include manganese, selenium, iron, copper, chromium and zinc.
Vitamins are also found in significant amounts in quinoa (see reference 3), however, the types of vitamins are limited compared to that of most vegetables. Vitamins found in high concentrations include vitamin E, folate, panthothenic acid and vitamins B1, B2, B3 and B6 (see reference 3).
Health Benefits
Numerous beneficial effects have been attributed to quinoa. These include prevention of osteoporosis, heart diseases, and oxidative damage to tissues and organs. The antioxidant protection of mitochondria by quinoa is very important. Mitochondria use large amounts of oxygen for aerobic respiration and are prone to oxidative damage. Manganese plays a critical role in the antioxidant effects of quinoa in the mitochondria.