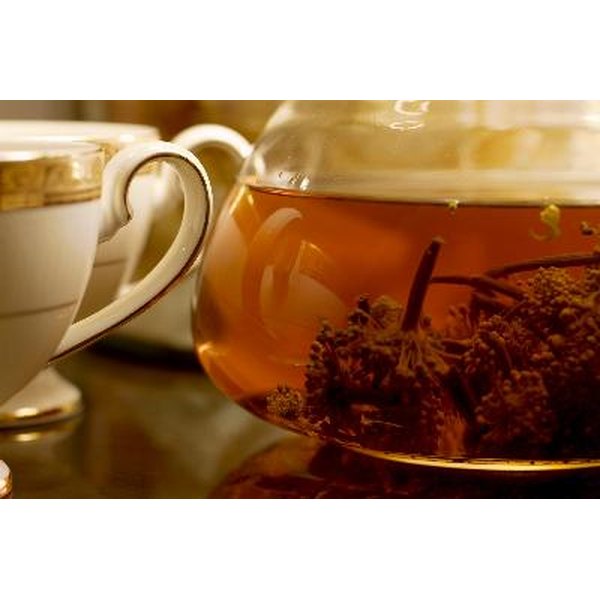 Asthma is a chronic, or long-term, condition in which you experience episodes of coughing, wheezing and breathlessness. The National Health Service of the United Kingdom states that the severity of asthma-related symptoms varies from one person to the next. Asthma is a condition associated with inflammation of your bronchi, which are small tubes that transport air into and out of your lungs. Before consuming herbal teas to help treat your asthma, discuss herb-related topics with your family physician.
Asthma and Breathing
Asthma, one of the most common causes of breathing difficulties, affects more than 22 million American adults and children, reports the National Heart Lung and Blood Institute. Although there is no single cause of asthma, certain risk factors may increase your likelihood of developing this condition, including a family history of the condition, food allergies, tobacco smoke exposure during your youth and being born with a low birth weight. Allergens, airborne irritants and airway infections may trigger asthma attacks.
Useable Herbs
There are many herbal remedies that may be consumed as a tea to help treat both acute and chronic asthma. In her book "Herbal Medicine From the Heart of the Earth," naturopathic doctor and master herbalist Sharol Tilgner notes that the following herbs may be consumed as a tea to help treat chronic asthma: cayenne, yerba santa, elecampane, coltsfoot and khella. Herbal remedies that may be consumed as a tea to treat acute bouts of asthma include lobelia, skunk cabbage and cayenne.
A Powerful Remedy
Khella is a powerful herbal remedy in the treatment of asthma, especially chronic asthma. Khella, notes Tilgner, exerts a strong antispasmodic effect on your bronchioles, in part because this herb is a calcium antagonist. Although it is slow to begin working, its therapeutic effects may last for up to 6 hours. Other conditions for which khella had been used include angina and obstructive pulmonary disease, although the efficacy of this herb for these conditions may not have been studied using contemporary scientific testing procedures.
Considerations
Asthma may lead to severe health complications, including inability to participate in physical activity, reduced lung function, persistent cough and, in some cases, death. If you experience asthma symptoms, visit your health care provider as soon as possible. If your asthma symptoms worsen or are unaffected by treatment measures, immediately go to an emergency room for necessary care. Exercise great caution when using herbs to treat your asthma, as some herbs may not be appropriate for you.