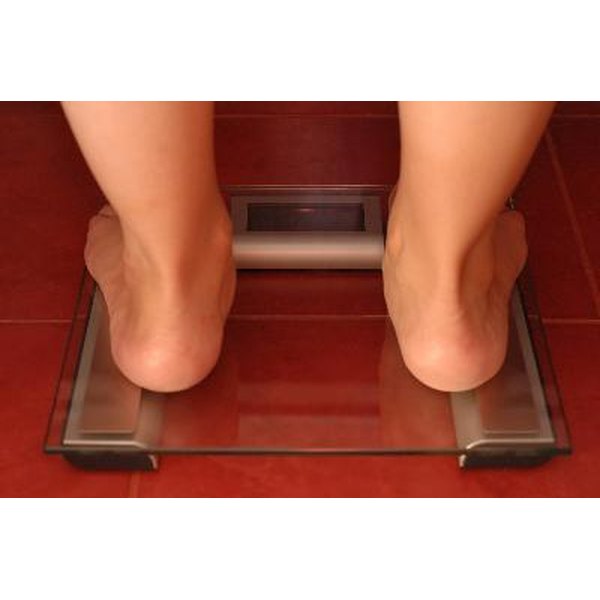 A low-calorie diet can be an effective way to safely lose weight. For long-lasting weight loss, it is recommended that you lose approximately 1 to 2 lb. per week by reducing your daily calorie intake and increasing your physical activity level. Cutting just 400 calories from your diet each day can add up to a weekly weight loss of close to 1 lb. When restricting calories, avoid decreasing your calories less than 1,200 calories per day. The body requires calories to function properly; severe restriction can lead to weakness and nutrient deficiencies.
Fat
The 2010 Dietary Guidelines for Americans recommends that 20 to 35 percent of your daily calorie intake come from fats. On a 1,200-calorie diet, 240 to 420 calories should come from fat. Per gram, fat equals 10 calories. Based on this, a 1,200-calorie diet should contain 24 to 42 g fat each day.
Breakfast
Based on a 1,200-calorie diet, each meal should contain roughly 400 calories and 10 to 15 g fat. Examples of 400-calorie, low-fat breakfast meals include one cup breakfast cereal with nonfat milk and a piece of fruit, a toasted English muffin with 1 tbsp. peanut butter and the fruit of your choice, a 3 oz. toasted whole grain bagel with 2 tbsp. reduced-fat cream cheese and 2 oz. lean lunch meat such as ham or turkey, or an omelet made with egg whites, turkey bacon and vegetables such as spinach, tomatoes or peppers.
Lunch
Many great lunch meals contain high amounts of nutrients with little calories. A 400-calorie low-fat lunch meal can include a turkey sandwich made with lean turkey, spinach and mustard on whole grain bread with a small side salad, or ham on rye with pear and Swiss cheese. You can have the fruit on the sandwich or as a side. Another lunch can include a tuna salad made with low-fat mayo and fresh vegetables; this tuna salad also makes a refreshing and low-calorie wrap.
Dinner
It can be challenging trying to create a low-calorie dinner meal that satisfies your appetite without leaving you craving more. Vegetables are low in calories and fat; you can eat large amounts to help fill you up. Try to include vegetables at dinner along with other nutrient-dense foods such as whole grains. Examples of low-fat 400-calorie dinners include fajita tacos made with marinated flank steak, peppers and onions. Another dinner might include grilled salmon served with couscous and a side salad, or barbecued chicken with a hearty brown rice and vegetable salad. Combine diced fresh, or cooked, vegetables of your choice with brown rice for a flavorful and filling dinner side dish.
Recommendations
When on a calorie-restricted diet, it's important to be aware of serving sizes. The nutrition label for a food contains the amount of nutrient for one serving, as defined by the manufacturer. A food's recommended serving size can be found at the very top of the nutrition label. Consuming amounts greater than the nutrition label also increases the calories and fat you consume. For foods that do not contain a nutrition label, such as some fruits and vegetables, the USDA provides a standard nutrient database.