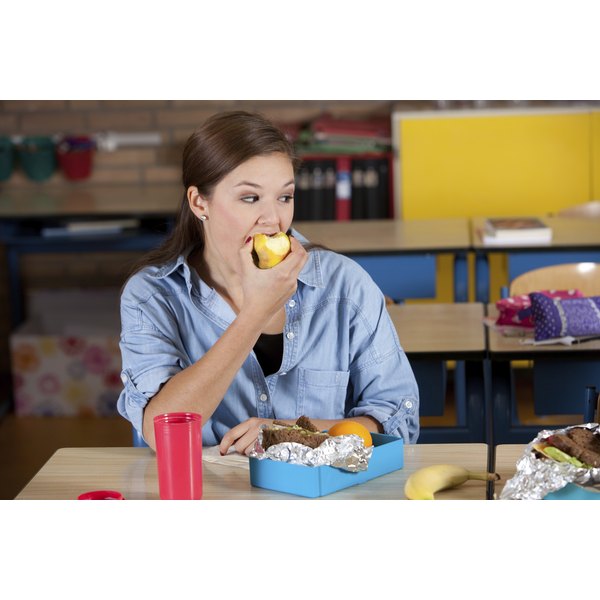 While healthy options can be offered to teens on a daily basis through the National School Lunch Program, teens sometimes exercise their independence by choosing the foods they want rather than the foods that are healthiest. By talking to your teen about the importance of making healthy choices in the lunch line, you can help him develop healthy habits that fuel his body, help him manage his weight and stay energized throughout the day.
Significance
Many high schools offer unhealthy options, vending machines, chips and soda come lunch time. All of these are attractive to teens who are old enough to make their own decisions concerning nutrition. Eating those unhealthy foods at lunch could result in weight gain, an energy crash in the late afternoon and even poor nutrition that leads to bad skin. Because schools are required to offer healthy options by the United States Department of Agriculture, it's only a matter of helping your teen recognize the best nutrition choices.
Problems
Just because the school offers better choices doesn't mean your teen will feel comfortable putting them on her tray. The pull of peer pressure from friends who make poor lunch time choices could have her loading up on pizza and fries rather than fruits and vegetables. What's more, the prevalence of candy, pop and chips can make it difficult for your teen to resist during a mid-afternoon slump. Unfortunately, the same temptations are contributing to a 20 percent teen obesity rate in the United States.
Smart Swaps
Since the USDA regulated the types of foods served in the cafeteria, your teen has healthy choices at his fingertips. By helping him make smarter substitutions, he can make subtle changes on his lunch tray that are better overall choices. For instance, instead of an order of fries, substitute cut vegetables or a vinegar-based pasta salad. Instead of pizza and hot dogs, urge him to choose whole wheat bread and lean protein lunch meat. As always, soda should be avoided in favor of plain water.
Packing Lunch
If the high-fat, processed offerings in the cafeteria are simply too much of a temptation for your teen, get her involved in packing her own lunch at home. Packing a school lunch means you have complete control over the nutrition and the caloric content of the food your teen is consuming. By bringing a packed lunch, your teen is able to bypass all cafeteria choices to ensure that she eats only the calories she needs, fortified by the nutrition she needs to stay alert, manage her weight and feel better about herself.