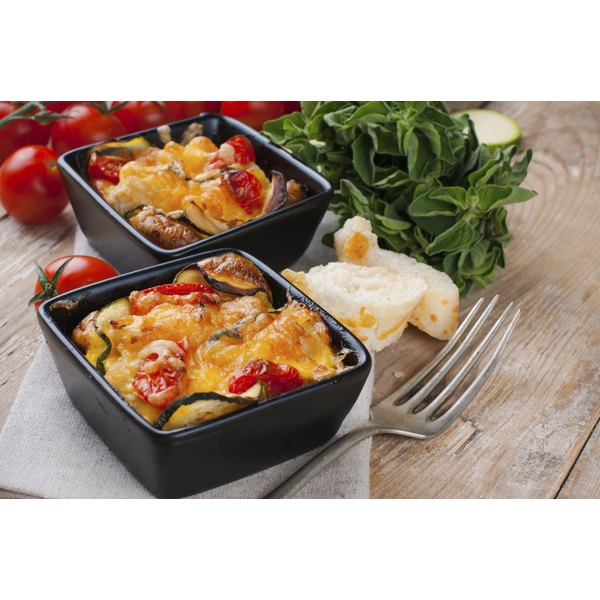 Chicken casseroles provide a nice break from plain grilled or poached chicken. In addition to the poultry protein, however, many casseroles contain lots of carbs. Chicken pot pie, for instance, has multiple ingredients with high carb counts, including pastry crusts, potatoes and peas. You can change the recipes for casseroles such as chicken pot pie to reduce the amount of carbs, or choose low-carb casserole recipes instead that rely on low-carb ingredients for flavor and texture.
Chicken Pot Pie Revisited
Removing the top and bottom crusts from a pot pie gives you a start in cutting back on the recipe's carbs. Instead of using a pastry crust, use a thin layer of buttered bread crumbs that you have made from low-carb bread, and sprinkle it over the top of the pie halfway through cooking. Replace high-carb white potatoes, peas or corn in the dish with low-carb green beans, frozen boiled onions, mushrooms, carrots and celeriac.
Be a Chili Purist
Chili purists from Texas or elsewhere never dream of putting beans in their chili and you can do the same for chicken-chili casserole. Fill the chili instead with more chicken, green chiles and tomatoes, and add nontraditional ingredients such as sliced celery and olives to add texture. If you want to reduce the carb content and eat your beans, too, cut the amount of beans in half.
Lose the Noodles
If you serve chicken goulash on its own in a bowl, you'll avoid the carbs the dish usually has when it's served over egg noodles. The dish is already a low-carb casserole with onions, bell peppers and canned tomatoes. Substituting plain, unsweetened yogurt for the sour cream that normally tops the dish saves a few more unnecessary carbs.
Everything's Better with Garlic
A garlic-chicken casserole relies on the succulent taste and texture of roasted garlic instead of rich creams, heavy sauces or potatoes. Use as many as three to four heads of peeled garlic cloves; blanch the cloves in boiling water for one minute for skins that come off easily. Add chopped celery stalks and frozen small onions to the casserole dish along with the chicken, then bake as directed.