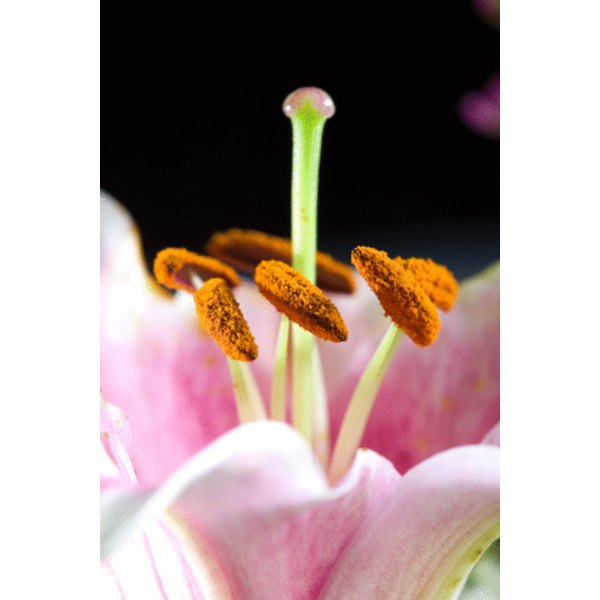 Bee pollen granules are carried by honeybees from flowers to their hives to provide the nutrients the colony needs to grow, develop and produce honey. Bee pollen is made up of approximately 24 percent protein, 27 percent carbohydrates composed of the natural sugars fructose and glucose, and only 5 percent fat. It also contains a rich blend of nutrients, which are thought to give bee pollen granules health-promoting qualities such as increasing energy, slowing aging and treating acne, depression, allergies, sore throat, indigestion and prostate disease. However, Health Canada notes these findings have not been scientifically proved, and bee pollen can cause adverse reactions. Consult your doctor before taking these bee pollen granules.
Consult your doctor or nutritionist about taking bee pollen granules as a health supplement, particularly if you have allergies or allergy-related illnesses such as asthma. Ifyou get your doctor's approvas, take a small dose of bee pollen granules and wait for 72 hours to ensure that there are no adverse or allergic effects.

Purchase bee pollen granules from your health food store. Take the Recommended Daily Allowance, or RDA, for adults of a half ounce or 15 to 20 g of bee pollen granules per day. This amount is sufficient for the general health effects attributed to this natural supplement. The dosage can be increased, but you should begin initially with this recommended dose.

Take 30 to 32 g of bee pollen granules daily, if approved by your nutritionist or doctor and after taking the initial recommended amount for at least one month. This larger dose is thought to help to increase anabolic strength and tone and should be taken for one month at a time only. The recommended dose for children is 12 g per day for the ages of 3 to 5 years, and 16 g per day for children aged 6 to 12 years.

Tip

Bee pollen is effective even in very small doses, and its effects are long lasting; do not take more than necessary. Bee pollen granules are packed with nutrients such as the minerals zinc, iron, manganese, potassium, calcium, copper and magnesium and vitamins including the B-complex vitamins and carotenes or vitamin A. You may not need to take additional vitamin supplements while you are taking this; speak to your doctor or nutritionist about your supplement needs.

Warnings

Though bee pollen granules are thought to decrease allergy effects such as hayfever by providing an immunization effect, in some people with pollen allergies they can case severe allergic reactions. Fungus spores that may contaminate the pollen may also cause illness.

Taking bee pollen granules can have a slightly hypotensive or blood-pressure reducing effect, as well as stimulating effects that can cause digestive problems. Stop taking the supplement and consult your doctor or nutritionist if you experience side effects.