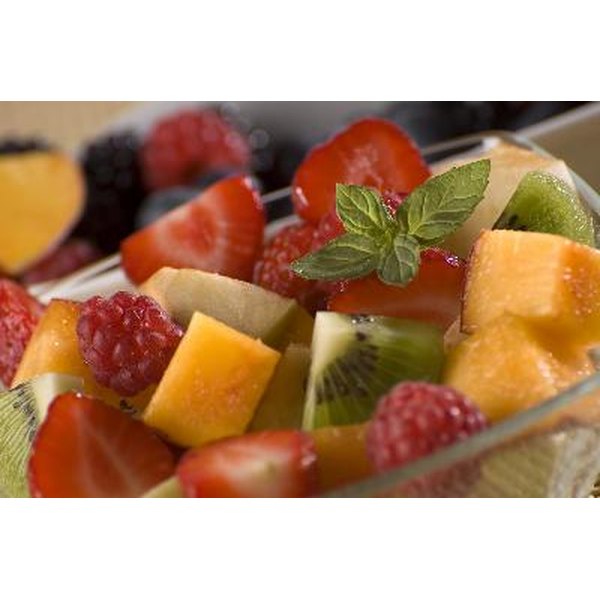 Even if you are the most committed dieter or health enthusiast, you may find it difficult to find a healthful meal for lunch, particularly if you are on the go. If you are trying to build lean muscle or lose weight, missing meals is counterproductive to your fitness goals. Skip the temptation to eat fast food for lunch and prepare a healthful lunch the night before.
Fresh Fruit and Greek Yogurt
If you find yourself craving sugar for lunch, you do not have to eat the high-calorie doughnuts or candy that may be waiting for you at work. A lunch of fresh fruit and Greek yogurt will satisfy your sweet tooth, but will not hinder your weight-management efforts. Fresh fruit is packed with vitamins, minerals and antioxidants. Make sure to choose fresh fruit and not canned, which may be covered in a sugary syrup. Non-fat Greek yogurt is a healthful treat as well. In addition, Greek yogurt is higher in protein than regular yogurt.
Vegetables and Hummus
The Centers for Disease Control and Prevention recommends eating vegetables and hummus to help manage your weight. Like fruit, vegetables are excellent sources of vitamins, minerals and antioxidants. Vegetables also contain water and dietary fiber that can suppress your appetite and keep you full until dinner. Eat a variety of colorful vegetables. Hummus, generally made from chickpeas, is also very low in calories. If you do not like hummus, substitute another low or non-fat dip. This lunch idea is particularly low in fat and calories and ideal if weight loss is your primary goal.
Tuna Sandwich
The American Council on Exercise recommends canned tuna on its list of 10 low-calorie foods. Tuna is high in protein and has no carbohydrates or sugar and virtually no fat. Fat that comes from fish includes polyunsaturated omega-3 fatty acids, which are heart-healthy. Look for whole-wheat or whole-grain bread that does not contain high-fructose corn syrup, which is associated with diabetes and can contribute to weight gain and obesity. If you add mayonnaise to your sandwich, pick low-fat mayonnaise made with canola or olive oil. These oils are sources of heart-healthy, unsaturated fat. Add a side of fruit or vegetables to your healthful tuna sandwich for additional vitamins.
Healthy Snacks
Many people ditch the breakfast, lunch and dinner concept and eat four to six smaller meals instead. Eating fewer calories more often can speed up your metabolism and ensure you are never so hungry that you binge on foods. The Massachusetts Institute of Technology lists lower-calorie snack ideas you can have for lunch or your afternoon break. Consider eating a 100 percent whole-grain pita with natural peanut butter, hummus and banana slices. Or try celery sticks with natural peanut butter and a glass of soy milk. Choose whole-wheat crackers with fresh tomato slices, small pieces of grilled chicken, low-fat mozzarella cheese, sliced black olives and salsa. These snacks incorporate a lean protein and complex carbohydrates. At just four calories per gram, protein and complex carbohydrates are the ideal substitutes for high-calorie foods high in saturated fat and sugar.