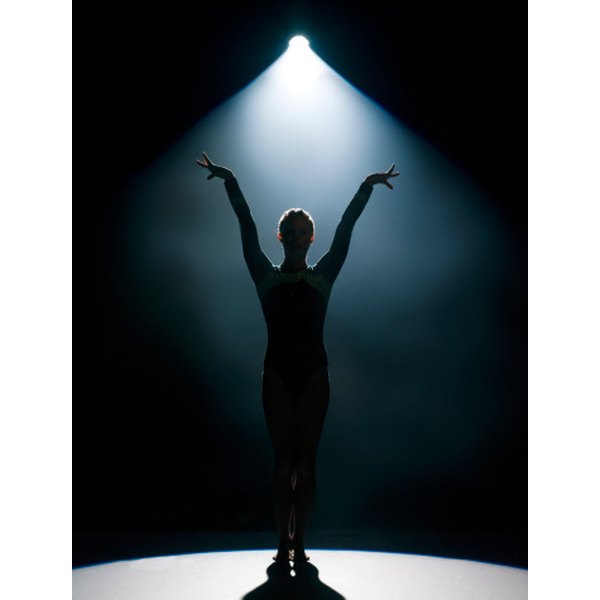 Competitive gymnasts have some of the slimmest, most carefully-honed bodies in sports. Female gymnasts, in particular, have tiny figures. However, competitive gymnasts begin training in childhood, train many hours a day and follow strict diets. So, does gymnastics help you lose weight if you're not training at a competitive level? The answer depends on your overall balance of diet and exercise, and whether or not you're prepared to spend a lot of time in the gym.
Calories Burned
Gymnastics is classified as a moderate calorie-burning exercise. This means a 155-pound person burns roughly 298 calories per hour doing gymnastics, versus about 334 calories for an hour of brisk walking at 4 mph and 446 calories per hour of jogging, according to the Harvard Heart Letter. This means if you want to do gymnastics specifically for weight loss, you'll need to devote more time to exercise and be content with slow, gradual weight loss. Also, if you don't have access to a special gym or training center, coaching and equipment, it probably isn't a practical choice for weight loss.
What To Eat
In order to lose weight, you need to modify your diet so that you're burning more calories than you consume. Part of the reason competitive gymnasts are so small is they follow very rigid diets and, according to the book "Nutrition: Concepts and Controversies," are prone to eating disorders. You can lose weight and develop healthy eating habits by focusing on a balanced diet with plenty of fruits, vegetables and whole grains, which are relatively low in calories and high in nutrients, but you're unlikely to achieve the extreme thinness of a professional gymnast.
When To Eat
Timing your meals correctly can help you achieve weight loss. In her book "Nancy Clark's Sports Nutrition Guidebook", Nancy Clark notes that gymnasts who eat sparsely during the day are more likely to over-eat in the evening, and to eat more empty calories, such as sugar and alcohol. To avoid cravings and provide your body with fuel for exercise, she recommends eating small, regular meals during the day to keep your metabolism high and to keep you satisfied. This will prevent calorie binges that undermine your exercise.
Body Shaping
One of the main benefits of gymnastics is that it tones and conditions your body. According to the book "Diabetes for Dummies," it increases both muscular endurance and flexibility, which results in multiple health benefits. Developing lean muscle raises your metabolism and helps you burn more fat, which promotes weight loss, while increased flexibility lengthens your muscles and makes your body more toned and shapely. However, because gymnastics burns relatively few calories and relies on long periods of training and gradual improvements in strength and conditioning, it requires a lot of commitment to see results. If you want to lose weight fast, adding a combination of high-intensity cardio and strength training will speed up your weight loss.