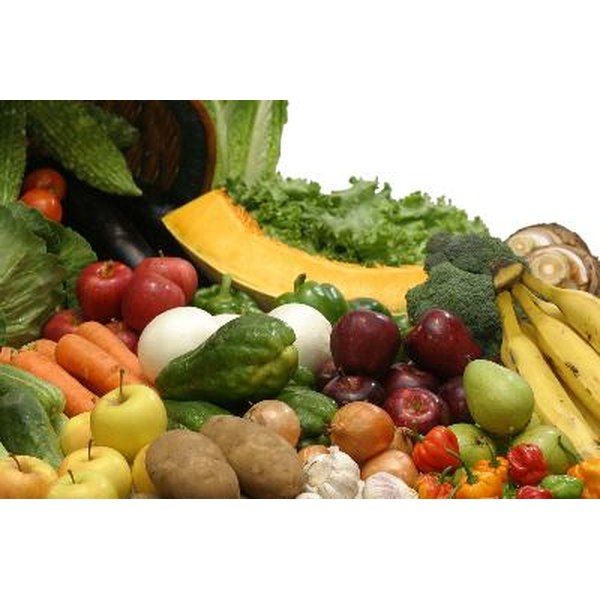 Nutrition can not only impact the length of your life but also the quality. Eating nutritionally and choosing healthy foods can stave off chronic disease, thereby increasing your lifespan. In addition, limiting your calories may also lead to a longer life.
Nutrition and Cardiovascular Disease
Cardiovascular disease is an umbrella term describing several diseases that can affect the cardiovascular system. These diseases include arterial disease, stroke and heart failure. Risk factors for heart disease include high blood pressure, high cholesterol, diabetes and being overweight or obese. Each of these individual risk factors are affected by your diet. High blood pressure can be avoided by eating less processed foods and sodium. High cholesterol and obesity can be prevented by limiting your fat and calorie intake. Diabetes can be controlled by limiting refined grains. Each of these individual factors are affected by your diet and can reduce your risk of premature death from cardiovascular disease.
Nutrition and Cancer
Approximately 555,500 Americans die from cancer every year. Eating healthfully may prevent you from getting cancer. The American Cancer Society recommends a diet that focuses on plant-based foods, including fruits, vegetables and whole grains. This also includes limiting your calorie intake in order to prevent excess weight gain. Eating a healthy diet to prevent cancer can also reduce your risk of premature death.
Nutrition and Aging
How much you eat may contribute to the length of your lifespan. One theory of aging has to do with your caloric intake. According to the book "Physical Dimensions of Aging," a caloric restriction diet may slow your rate of aging. To successfully perform this diet, you must restrict your calories to two-thirds of the normal amount consumed. Your diet must, however, still supply all the necessary vitamins, mineral and nutrients that your body needs. The theory is that your body will take all the nutrients it is given and devote them all to maintenance of your body's functions, resulting in a slower aging process and increased life expectancy.
Recommendations
Recommendations from the U.S. Department of Agriculture encourage controlling your calories and focusing on certain nutrients. Your caloric intake should match your energy expenditure to maintain a healthy weight. You should limit your intake of sodium, cholesterol, saturated fat, added sugars and processed grains. Your diet should focus on unsaturated fats, plant-based proteins, whole grains, fruits and vegetables.