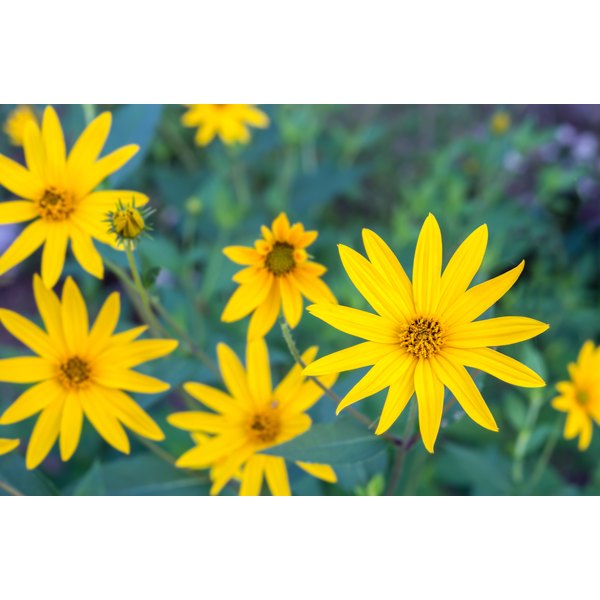 A sunchoke, also known as a Jerusalem artichoke, is a tuber vegetable that is a nutritious addition to salads, sandwiches and other meals. Mix and match sunchokes with other fresh fruits and vegetables to create a healthy meal.
Tip
Sunchoke has 73 Calories and 2.00 g of Protein per 100 gram serving according to the nutrition facts provided by the USDA Food Composition Database.
A Tasty Tuber
Sunchokes, originally named Canadian artichokes, are native to North America. Samuel de Champlain brought them from Canada to England in the 17th century. The grow as a small underground bulb or tuber and have a slightly sweet flavor and crunchy texture. Although commonly thought to be related to the artichoke, a sunchoke is actually a root vegetable in the aster family and resembles a potato in taste and texture.
Nutrients
A sunchoke is moderate in calorie content, with 110 calories in a 1 cup serving of sliced sunchoke. One cup also contains 0 grams fat, 6 mlligrams of sodium and 14 grams of sugar. This amount provides 3 grams of protein and about 2.5 grams of dietary fiber.
Vitamins
Sunchokes are high in several important vitamins and minerals. A one-cup serving provides 6 milligrams of vitamin C, about 2 milligrams of niacin and 30 International Units of vitamin A. It also contains 21 milligrams of calcium, about 5 milligrams of iron, 117 milligrams of phosphorus and over 600 milligrams of potassium.