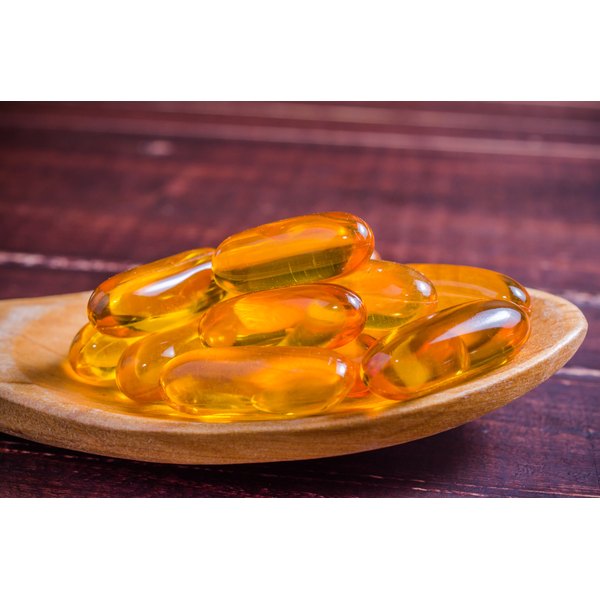 Fish oil is the most popular supplement, that is not a vitamin, sold in the United States, according to the National Institutes of Health. Unfortunately, these supplements are linked to a variety of unpleasant side effects, and they vary tremendously in their potency and purity. The best fish oil softgel supplements provide a strong, consistent dose of the constituent omega-3 fatty acids, eicosapentaenoic acid, or EPA, and docosahexaenoic acid, or DHA, with few impurities. Consult your physician before taking a fish oil supplement to make sure it is right for you.
Lovaza
Most fish oil softgels are sold as nutritional supplements, which generally do not undergo the same degree of quality testing as pharmaceutical drugs. The only fish oil softgel reviewed and approved by the Food and Drug administration is Lovaza. Chemically, Lovaza is not very different from other high-quality fish oil supplements, but many health care providers and consumers prefer it because of its government-guaranteed potency and purity. Due to its status as a drug, rather than supplement, Lovaza is sold as a prescription medicine. It can only be obtained under a physician's guidance.
Nordic Naturals Ultimate Omega
The Nordic Naturals "Ultimate Omega" fish oil product delivers a potent dose of both DHA and EPA in each individual softgel capsule. This double-strength formula includes roughly twice the amount of DHA and EPA in unrefined salmon oil. Ultimate Omega comes in smaller-than-average capsules. They contain natural strawberry flavor, which helps to prevent or mask the fishy aftertaste of other omega-3 supplements. Nordic Naturals also contains added vitamin D-3, an essential micronutrient involved in immune support, bone synthesis and mood balance.
GNC Triple Strength Fish Oil
General Nutrition Center, or GNC, offers a triple-strength fish oil with a dose of DHA and EPA similar to that found in prescription Lovaza. GNC's Triple Strength fish oil is enteric-coated, meaning that it has an acid-resistant coating on each capsule that prevents it from breaking apart in the stomach. This enables the product to enter the intestines intact and prevents the aftertaste and reflux caused by ordinary fish oil supplements.
Nature Made Fish Oil
Nature Made fish oil, which is relatively inexpensive, is advertised as "molecularly distilled." The company states that the product is so extensively refined that no compounds besides the core omega-3 fatty acids remain. Nature Made fish oil is fairly potent and also is enteric-coated. Because of its purity, it is less likely to cause an unpleasant aftertaste or fishy reflux. It also is third-party verified to be free of contaminants such as mercury and olycarbonated biphenyls, or PCBs. Talk to your health care provider before using Nature Made or any other fish oil supplement.