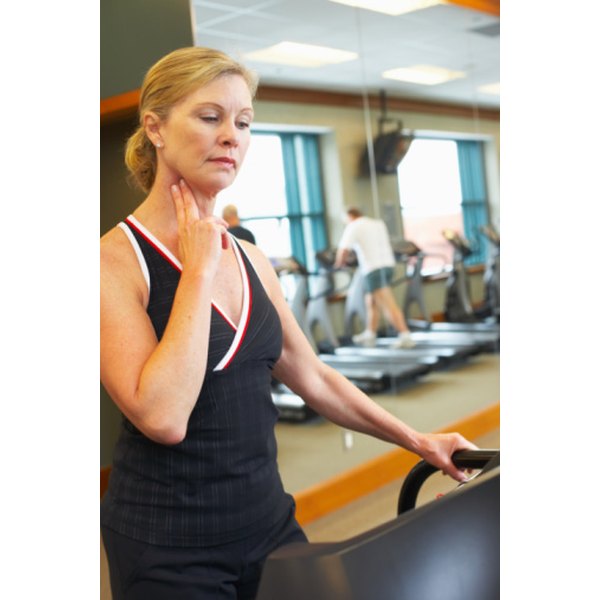 Polar is a major manufacturer of fitness monitors for all types of athletes and exercise enthusiasts. If you're a world champion cyclist or a soccer mom, one of their monitors can help give you the workout edge you need. Polar makes many different styles of heart rate monitors, often differentiated by gender.
Just for Women
The biggest difference between men's and women's Polar heart rate monitors is style and size. Women's monitors typically have smaller bands and displays to accommodate smaller wrist sizes. A heart rate monitor must fit well to detect your pulse and accurately display your heart rate. The smaller band size allows for clear signals and accurate monitoring. Women's Polar heart rate monitors also come in more colors than men's monitors, including purple, white, red and pink.
Go Wireless
While many Polar monitors are able to detect your heart rate directly at your wrist, some of the more accurate monitors use a wireless chest strap capable of more precise heart rate measurements. However, for many women, this chest strap has proved irritating and difficult to wear with a traditional or sports bra. As of 2011, Polar manufactures a sports bra that has an integrated wireless transmitter to combat this comfort problem. The Cardio Sports Bra takes the place of the regular chest strap and is machine washable.
Target Heart Rate
One of the best ways to use a Polar heart rate monitor is with your target heart rate. Target heart rate is actually a range of heart rates that correlates to your optimum cardiovascular fitness range. Calculating target heart rate is different for women than it is for men, due to a scientific study completed in 2010. Find your target heart rate by first calculating your maximum heart rate which, for women, is 206 minus 88 percent of your age. Your target heart rate range is 50 to 85 percent of your maximum heart rate.
Choose Your Favorite Features
When considering a Polar heart rate monitor, one of the biggest differences is features. Some heart rate monitors have GPS for speed and distance calculations while others have calorie counters and pedometer capability. Beyond color or style, choose the Polar heart rate monitor that suits your needs best. If the best Polar heart rate monitor for you is a man's monitor, ask about aftermarket bands or accessories that would allow it to work for you.