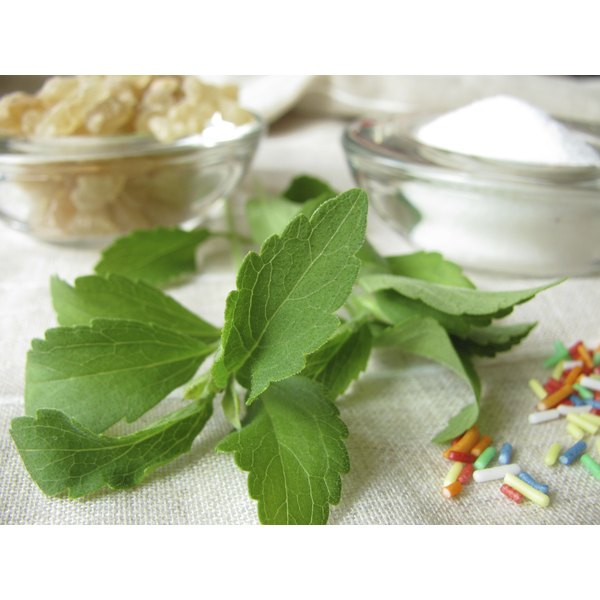 Stevia is commonly known as sweet leaf or sugar leaf; its leaves and extracts are obtained from perennial stevia shrubs native to South America. Extract of this plant, according to Memorial Sloan-Kettering Cancer Center, is two to 300 times sweeter than common table sugar. It has long been used as a sweetening agent. A stevia extract known as rebaudioside A has been approved by the Food and Drug Administration as a general purpose sweetener.
Composition
Stevioside and raubioside are the two major sugars present in the stevia plant. It also contains sterols such as stigmasterol and beta-stimosterol, along with vitamins A, B and C, iron, zinc and calcium.
Benefits
Stevia has been used as a sweetener for centuries. According to Drugs.com, stevia promotes weight loss by providing a low-calorie option to satisfy sugar cravings. A study published in the January 2004 edition of "Metabolism" showed that taking a 1 g stevioside capsule may reduce blood sugar levels after meals. According to MSKCC, stevioside supplements may also help reduce blood pressure and improve the quality of life in patients with hypertension. Some animal studies, such as one published in the November 2002 edition of the "Biological and Pharmacological Bulletin," have shown that sterol and sugar compounds isolated from stevia may inhibit the growth of skin tumors.
Mechanism of Action
The blood-pressure-lowering properties of stevia may be due to its ability to prevent calcium from entering the blood vessels, thereby lowering blood pressure. Stevioside may have anti-inflammatory properties. Stevia compounds may also inhibit formation of glucose in the body and increase insulin sensitivity, says MKSCC.
Side Effects
No major adverse reactions to stevia have been reported. The use of stevioside for hypertension can lead to mild gastric disturbances and myalgia in some patients. Stevia is also safe to use with most medications, although the dosage of hypertensive and diabetic medications may have to be adjusted to account for the blood pressure lowering and hypoglycemic properties of stevia. Check with your doctor if you take medicines and are concerned about interactions.
Precautions
As with any herbs and supplements, stevia may not be a substitute to existing medications. Its adverse reactions and drug interactions have not been extensively studied; it should not be used without consulting a physician. Talk to a doctor before using stevia for medicinal or weight loss purposes.