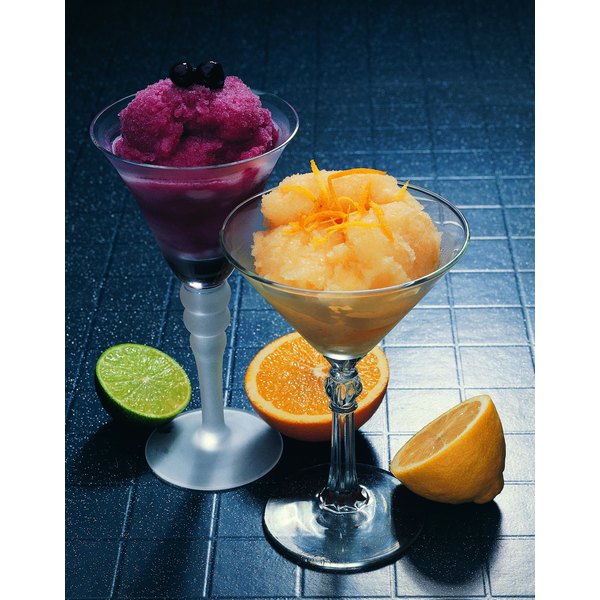 Lingering over dessert is one of life's little pleasures, even when the dessert is low in fat, salt and sugar. Fruit-based desserts contain some natural sugars, but they are an easy go-to option for low-fat, low-salt and fairly low-sugar desserts. Fill your pantry and refrigerator with fruit and other low-fat, low-salt and sugar-free staples to help you transform rich, indulgent desserts into delicious and wholesome ones.
Fresh and Fruitful Choices
Fresh fruit provides nutrition and fiber with little fat and salt. Fruits with the least amount of sugar include limes and lemons, which have virtually no sugar, and cantaloupe, grapefruit, honeydew melon, nectarines, peaches, pineapple, strawberries and tangerines, which have small amounts of sugar. Serve cut fruit with grated ginger, a spritz of lime juice, thin strips of mint or basil, and a dollop of fat-free sour cream or Greek yogurt.
Bake It, Grill It or Zap It
The amount of natural sugars in cooked fruit doesn't change when you grill the fruits, but the sugars do caramelize and intensify their flavors. Good grilling candidates include pineapple or nectarine slices, which cook in about four minutes per side. Pears have a bit more natural sugar than some other fruits; serve half a pear to each diner to keep the sugar content low. Pears cook in about 20 minutes in the oven and three minutes per side in the microwave.
Freeze It
A granita is a granular ice mixture you make by freezing a flavored liquid in a shallow dish and stirring it with a fork every 30 minutes for about two hours. Low-fat, low-salt and sugar free-mixtures include blended fruit with enough fat-free sour cream or yogurt to form a shake-like consistency. Or flavor a granita with unsweetened flavorful teas; coffee with a small amount of fat-free milk; or wine. Use a sugar-free sweetener, such as stevia, for sweetness in any granita.
Keep It Thin
With no sugar and small amounts of fat and salt, mini filo shells make an elegant dessert with the added benefit of small portion sizes. Fill the shells with a dab of part-skim ricotta cheese combined with a bit of non-sugar sweetener. Add a sprig of mint or a few fresh berries on top. Filo, also called phyllo, is also a good substitute in rich pastry tarts when you spray the flat sheets with cooking oil instead of butter.