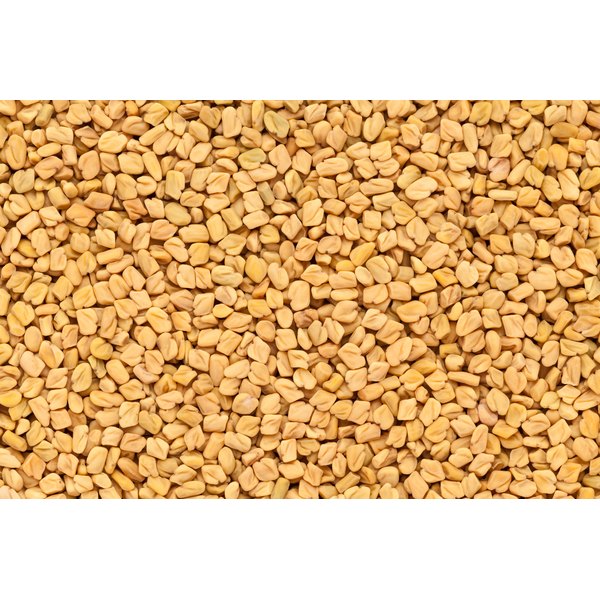 Fenugreek is an herb that is native to southern Europe. It was originally used by Greek farmers as forage for livestock, according to Michael Castleman, author of "The New Healing Herbs." The seeds and leaves of this herb may also offer medicinal benefits. The chemicals contained in the leaves and seeds may help lower blood glucose, which may relieve fatigue, confusion, dizziness and headaches associated with diabetes. Talk to your doctor if you plan to treat diabetes with fenugreek. This herb should not replace medical treatment for diabetes.
Dry roast fenugreek seeds by placing them in a large skillet and heating on medium-high heat for one to two minutes, stirring frequently. Add 1 to 2 tablespoons of the roasted seeds to Indian curries and Asian stir-fry dishes.

Steep 2 tablespoons of dried fenugreek leaves and seeds in 1 cup of boiling water for 10 minutes. Strain the liquid and drink the resulting tea twice per day to help lower blood glucose levels.

Pour 1 cup of boiling water over 4 tablespoons of dried fenugreek seeds and leaves and steep for 30 minutes to produce a tincture. Take half tablespoon of the tincture three times per day.

Tip

Add 1 tablespoon of agave nectar, a natural sugar substitute, to fenugreek tea to offset the bitter taste of the leaves and seeds.

Warnings

Fenugreek is considered a uterine stimulant -- do not take this herb for diabetes management if you are pregnant. Also, this herb may occasionally cause diarrhea or stomach upset.