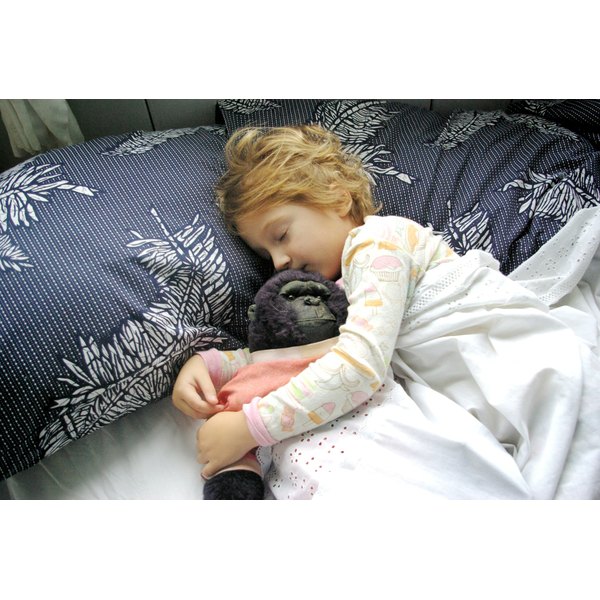 The Sleep Hormone
Melatonin is a hormone produced by the pineal gland, which is located at the base of the brain. Melatonin may play a role in helping your body go to sleep at night and wake up in the morning. It may also aid in keeping your body's circadian rhythm, which is basically your body's natural clock. Your melatonin levels can decrease as you age, which could make it more difficult for you to sleep as you get older.
Natural vs. Synthetic
You can buy natural and synthetic forms of melatonin without a prescription. You should avoid taking natural melatonin, as it is made from animals' pineal glands and may be contaminated with a virus. Synthetic melatonin, however, is made from synthetic ingredients as opposed to animal ingredients, so it doesn't carry the risk of virus contamination.
Sleep Easy With a Dose of Melatonin
The most common uses of synthetic melatonin are for treating insomnia and preventing and lessening the effects of jet lag. If you take melatonin at night before bed, it may make you feel sleepier, which can then help you fall asleep faster and stay asleep for longer periods of time. Studies suggest that melatonin can also help you to feel more awake and alert during the day. When you're traveling to a different time zone, melatonin may help you to get on a regular sleep pattern in less time than it would normally take.
Watch Out for the Side Effects
When you take melatonin, you may experience headaches, vivid dreams, nightmares, stomach problems, dizziness or fatigue. More serious side effects could include blood clots, seizures, disorientation or depression. If you notice these or any other side effects when you take melatonin, discontinue use and talk to your doctor. If you have an autoimmune disorder, kidney or liver disease, or if you're pregnant or nursing, you should avoid taking melatonin. Also, use caution when driving or operating heavy machinery, especially if you experience daytime drowsiness after you take melatonin.
Too Many Unknowns
Some studies suggest that melatonin may possess strong antioxidant properties that could protect you from cancer and help you live longer. However, most of these studies have been performed on rats, making it difficult to determine the long-term health benefits of melatonin in humans. Another uncertainty to consider is that health food stores sell melatonin as a dietary supplement, which means that the U.S. Food and Drug Administration doesn't regulate this product. Because of this, you should check with your doctor before you take melatonin.