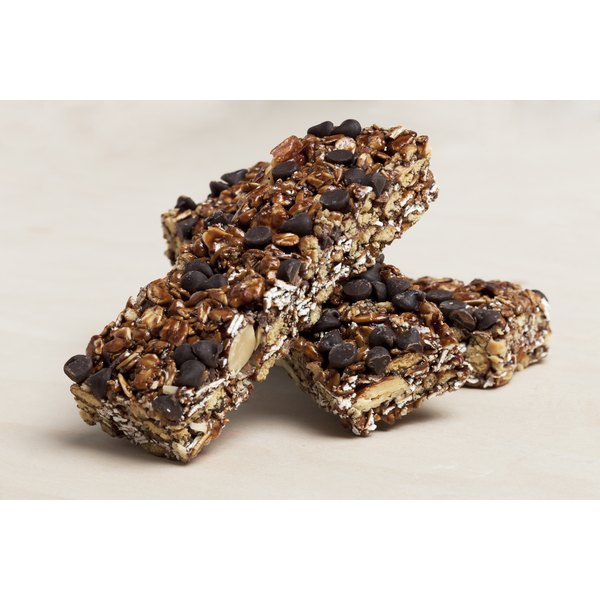 Founded by former college athletes in 1997, Premier Nutrition focuses on sports nutrition and targets its dietary supplements to athletes. If you are concerned that you are not getting enough high-quality protein in your diet, you might want to try a Premier Protein Bar. Knowing the nutritional facts can help you determine if these bars will meet your dietary needs.
Product Information
Premier Protein bars are available in chocolate peanut butter, double chocolate crunch and yogurt peanut crunch flavors. Each bar is 72 g and is sweetened with sugar and sucralose, a non-nutritive sweetener.
Protein
Each Premier Protein bar provides 30 g of high-quality protein from sources such as soy protein isolate and whey protein concentrate from milk. Dietary protein helps you maintain healthy organs and body tissues. Strength-training athletes may need about 0.6 to 0.8 g protein for each pound of body weight per day, so a 150-lb. weightlifter might need about 110 g protein per day.
Other Nutritional Facts
Each Premiere Protein bar provides 270 to 290 calories and has 6 to 8 g of total fat. These bars are high in saturated fat, which is the type of fat that can raise cholesterol. Each bar has 3.5 to 4.5 g of saturated fat, or 18 to 22 percent of the daily value for this fat. Premier Protein bars have 23 g to 26 g total carbohydrates, including 1 to 2 g of dietary fiber and 8 to 10 g of sugars. They have 15 to 20 percent of the daily value for iron, 15 to 20 percent of the daily value for phosphorus, 6 to 10 percent of the daily value for calcium and 330 to 420 mg sodium.
Meal Replacement Evaluation
Premier Nutrition recommends using the Premier Protein bar as a meal replacement product. The bar is convenient because you can carry and store it easily and it may help you lose weight if you eat it instead of a higher-calorie meal. However, the bars are not fortified to help you meet your needs for many essential vitamins and minerals. A balanced meal with low-calorie, nutritious foods such as vegetables, beans, low-fat dairy products or whole grains may be more filling, as well as healthier.