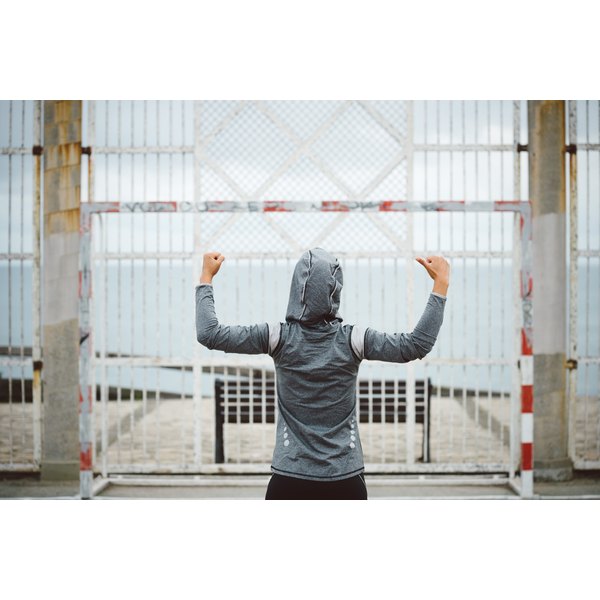 Anxiety and inhibition are limiting mental states that may keep you from meeting your full potential in life. There are a variety of chemical treatments available to relieve anxiety and inhibitions. Although these drugs may be effective, many of them are habit-forming or have negative side effects, and they do not address the underlying thought and behavioral patterns that may contribute to anxiety and inhibitions. On the other hand, simple natural practices -- when adhered to regularly over time -- may gradually help you overcome the negative thought patterns and relieve the related states of anxiety and inhibition.
Exercise more. According to the Mayo Clinic, exercise can relieve anxiety by stimulating your endocrine system to release natural endorphins that increase your feeling of well-being. Setting small goals for exercise and consistently achieving them can also help overcome feelings of inferiority that contribute to inhibitions.
Develop a regular meditation practice. According to the book "For a Blissful Baby" by Dr. Kamuda Reddy, practicing meditation for only 20 minutes a day may help practitioners gain an improved self-image, decrease feelings of tension and help improve interpersonal relationships.
Focus on the present. Feelings of anxiousness or inhibition -- not being good enough -- result when thought energy is bound up in thinking about the past or imagined future. In focusing on the present moment, that energy is released and you can gain a fresh perspective free of these mental impediments.
Think less. According to Master Omraam Michael Aivanhov, negative thought patterns about yourself, other people and situations create mental states related to anxiety, depression and inhibitions. Overcome these states by making it a habit to replace negative thoughts with positive images, songs, mantras, prayers or positive affirmations.
Tips
Although you may start to see results very soon, you will be more likely to succeed when applying these practices with regularity and discipline. Schedule time daily or weekly for best results.
Warnings
Despite the success of many individuals in using these methods, there is no conclusive clinical evidence to support their effectiveness.