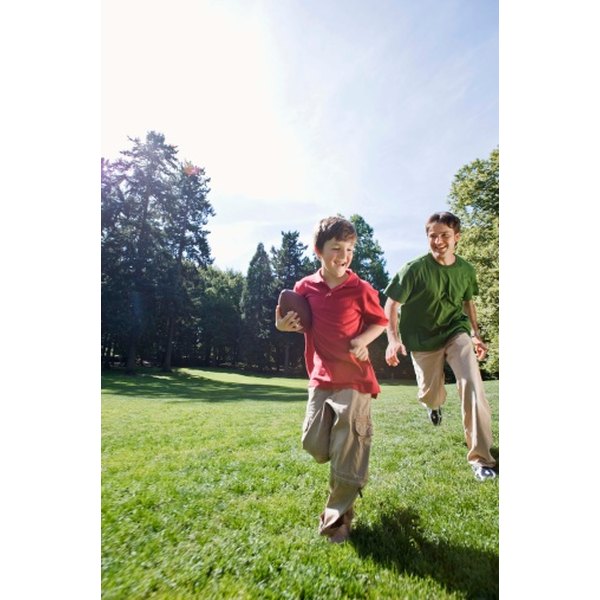 Florida is home to three of the best college football programs in the United States -- the University of Florida, Florida State University and the University of Miami. All three schools have won at least one National Collegiate Athletic Association football championship since 1999. Altogether, 14 Florida colleges have football programs. Seven play at the highest level of competition -- the Division I Football Bowl Subdivision, or FBS.
Teams
Florida is fourth in population, but has fewer football programs than many smaller states. Pennsylvania, for example, has 23 Division III football teams and many teams at other levels. The seven FBS teams play in five conferences. Florida is in the Southeastern Conference; Florida State and Miami are in the Atlantic Coast Conference; Central Florida and South Florida are in American Athletic Conference; and Florida Atlantic and Florida International are in Conference USA. Four schools -- Bethune-Cookman, Florida A&M, Stetson and Jacksonville -- play in the Football Championship Subdivision, or FCS. No Florida colleges play in Division II or Division III. Three Florida colleges -- Florida Tech, Edward Waters and Webber International -- play NAIA football. The University of West Florida is scheduled to introduce football in 2016.
Florida
Florida won national football championships in 1996, 2006 and 2008. The Gators never won an SEC title before Steve Spurrier, a Florida graduate who won the 1966 Heisman Trophy for being the nation's best player, became the coach. While Spurrier coached from 1990 to 2001, Florida won six SEC titles, was 122-27-1 and Danny Wuerffel won the 1996 Heisman Trophy. Spurrier left for the NFL's Washington Redskins, but the Gators became a national power again after Urban Meyer replaced Ron Zook as the coach in 2005. Meyer was 65-15 in six seasons and coached Tim Tebow, Florida's third Heisman winner in 2007, before he resigned for health reasons after the 2010 season.
Florida State
Florida State's leader in coaching wins before Bobby Bowden was hired in 1976 was Bill Peterson, who was 62-42-11. Bowden became the school's wins leader while leading Florida State to 316 victories, national titles in 1993 and 1999, 14 consecutive top-five finishes in the national polls and 12 ACC titles. He also coached Charlie Ward and Chris Weinke when they won the 1993 and 2000 Heisman Trophy awards, respectively. Bowden's record at three schools when he retired in 2009 was 389-129-4, though the NCAA ruled in 2010 that 12 wins didn't count because Florida State used academically ineligible players.
Miami
Miami has won more national titles -- five -- than any other school during the past 30 years. Dennis Erickson coached the Hurricanes to titles in 1989 and 1991, while Howard Schnellenberger, Jimmy Johnson and Larry Coker coached champions in 1983, 1987 and 2001, respectively. From 2000 to 2002, Miami won 34 straight games, the longest streak in the nation since the 1960s. The streak ended when Ohio State won the 2002 championship 31-24 in double overtime. Miami has had many stars, including 1986 and 1992 Heisman Trophy winners Vinny Testaverde and Gino Torretta.