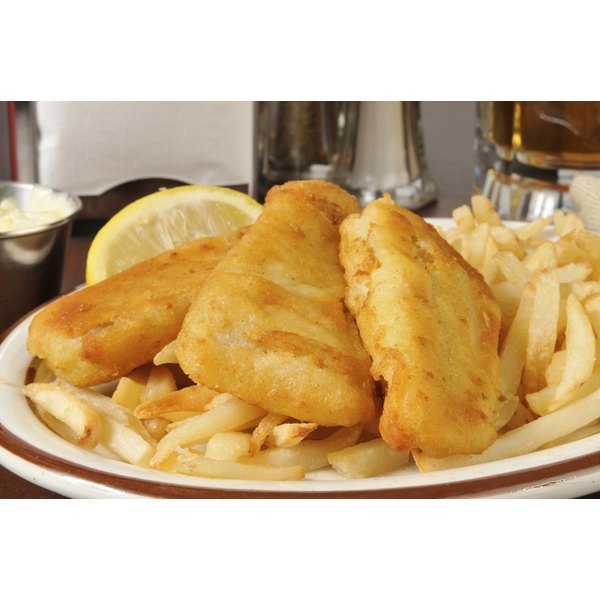 As of 2011, Cracker Barrel has 588 restaurants in 42 states. Their mission is to "please people" with their southern-\ style breakfast, lunch and dinner menu. According to CrackerBarrel.com, they take pride in using genuine and authentic recipes and use the highest quality of ingredients. For health-conscious customers, Cracker Barrel offers grilled chicken and fish as options for lunch and dinner.
Menu
Cracker Barrel dinner and lunch options come with your choice of any three country vegetables or sides, and either a buttermilk biscuit or made-from-scratch corn muffins. They serve fish daily, but every Friday they have a special "Friday Fish Fry," when they promote their famous catfish and lemon pepper grilled rainbow trout.
Grilled Catfish
The Cracker Barrel Grilled Catfish dinner comes with two fillet pieces, which contain 540 calories, 36 g of fat and 54 g of protein. The grilled catfish has no trans or saturated fat, nor does it have any cholesterol, sugars, carbs or sodium.
Lemon Pepper Grilled Rainbow Trout
Another fish option for lunch or dinner is the Lemon Pepper Grilled Rainbow Trout. In two fillets, there are 326 calories, 18 g of fat, which include 2 g of saturated fat, and 46 mg of cholesterol. There are also 162 mg of sodium, 722 mg of potassium, 10 g of carbs, 2 g of dietary fiber, 2 g of sugar and 34 g of protein. Two fillets also contain 94 percent of the daily value of vitamin C as well as 10 percent calcium, 16 percent iron and 2 percent vitamin A.
Sides
Vegetable sides include green beans, which contain 70 calories, 0.2 g of fat, 16.1 g of carbs and 4 g of protein. A side of carrots has 58 calories, 5 g of fat, 5 carbs and 0 g of protein. One of Cracker Barrel's biscuits has 133 calories, 5.5 g of fat, 18.3 g of carbs and 2.7 g of protein. A corn muffin has 270 calories, 5 g of fat, 50 g of carbs and 6 g of protein. Their famous macaroni and cheese side dish contains 437 calories, 26 g of fat, 33.2 g of carbs and 17.8 g of protein.