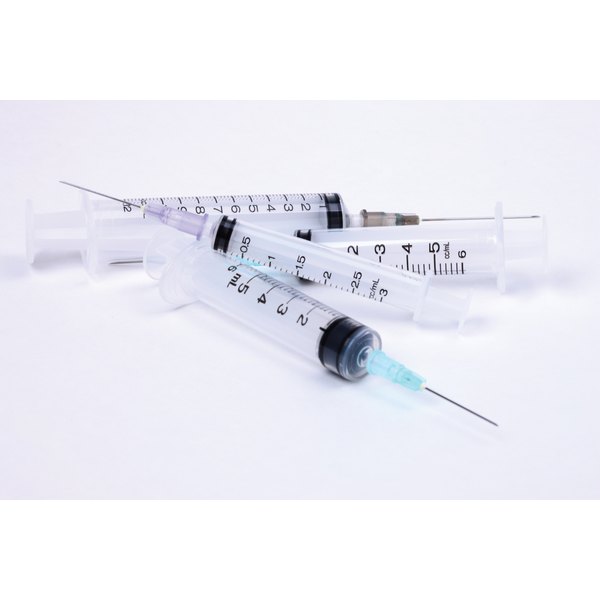 The human chorionic gonadotropin – HCG – diet is a weight-loss program rife with scientific scrutiny, according to DietsInReview.com. HCG is a hormone usually associated with fertility and pregnancy. Present in men and women, HCG is naturally intended for the redistribution of fat stores and maintenance of the placenta during pregnancy. Studying the HCG weight-loss program pros and cons allows potential users to make an informed decision.
Lifestyle
Those hoping for a quick fix may consider using the pills, drops or HCG injections promoted for rapid weight loss. A diet that sheds pounds without laborious hours in the gym may sound miraculous. However, the fine print states that a major lifestyle change is required for this program: the very low-calorie diet of 500 calories per day. That's only a quarter of the standard 2,000-calorie diet for most Americans.
Accessibility
The HCG hormone is available, by the syringe or tablet, both online and through medical weight-loss clinics all over the country. Just like many other popular fad diets, HCG can be purchased and used fairly easily.
Weight Loss
Proponents of the HCG diet claim you can lose an amazing 1 to 3 lbs. a day on this program, according to DietsInReview.com. Unfortunately, the only way to lose that much daily weight is through fluid loss, which the HCG hormone can stimulate. Weight loss is associated with the HCG diet, but results may stem from the caloric restrictions, as opposed to the hormone itself.
Safety
Not only does the FDA not consider the HCG diet to be safe, the organization warns of the potential health risks associated with unlabeled use of this hormone. Ranging from mild to severe, reports of mood swings, fatigue, headache and irritability abound with use of this hormone. It is true that other weight-loss programs contain their own set of side effects; however, the HCG diet has two potentially life-threatening ones: ovarian hyperstimulation syndrome and arterial blood clots.