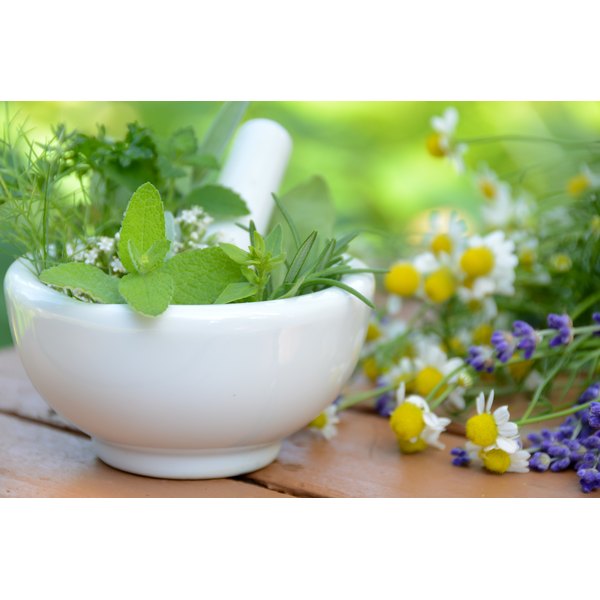 Herbology is a field that requires specific and focused study leading to a comprehensive knowledge of herbs, their uses and applications, such as how herbs are used to treat specific physical or mental conditions. Several different types of schools exist, including ones that specialize in Chinese, Ayurvedic and Native American herbology. Many courses offer an eclectic approach, providing information on several of these schools of herbal medicine. Most people who choose to study herbology eventually become professional or certified herbalists and practice as clinical herbalists in private settings or continue their studies to obtain advanced degrees in botanical sciences. There are no official certifications to become an herbalist in the United States.
East West Certified Herbalist Degree Program
The East West School of Planetary Herbology offers the Certified Herbalist Program, which entitles those who have successfully completed the program to practice as clinical herbalists. The program is designed as a continuation of the East West School's Professional Herbalist Course, a 36-hour program that provides a basic yet comprehensive overview of herbs, their functions and how to administer them in a clinical setting. The Certified Herbalist Degree Program involves the completion of online seminars and webinars, as well as the completion of 400 hours of supervised casework, provided by the school's mentors. Coursework can take three years or longer to complete.
Bastyr University Herbal Sciences Degree Program
Bastyr University, located in Kenmore, Wash., near Lake Washington, offers a two-year program of on-campus study leading to a Bachelor of Science in Herbal Sciences. While the completion of this program does not allow graduates to treat patients, it does provide a foundation for entering fields, such as herbal products or botanical medicine experts. Many students continue on to advanced degrees in fields, such as acupuncture or Oriental medicine. The degree program is designed for students who have already achieved 60 transferable undergraduate semester credits. Coursework includes a 44-hour practicum, hands-on work in the university's on-campus herb lab and electives on a variety of herbal medicine topics.
American College of Healthcare Sciences Graduate Certificate in Herbal Medicine
The American College of Healthcare Sciences Graduate Certificate in Herbal Medicine is offered to applicants who already possess a bachelor's degree from an accredited institution. The college is located in Portland, Ore., although studies are completed online. According to the college's website, the school is accredited by the Accrediting Commission of the Distance Education Training Council. The certificate provides a broad course of study, including botany, toxicology and study of herbs and essential oils. The certificate is completed over 16 weeks, with nine hours of recommended weekly study time.
Tai Sophia Institute Master of Science in Herbal Medicine
According to the school's website, the Tai Sophia Institute, located in Laurel, Md., is the first school in the United States to offer the Master of Science in Herbal Medicine. The course of study provides training on a variety of herbal medicine systems, including the Ayurvedic and Native American systems. The program's focus is on clinical study and research, enabling successful participants to practice as clinical herbalists. Students receive 1,000 hours of clinical training and experience and access to the institute's on-site herb garden. Courses are conducted on-campus and the degree is usually completed in 28 to 32 months.