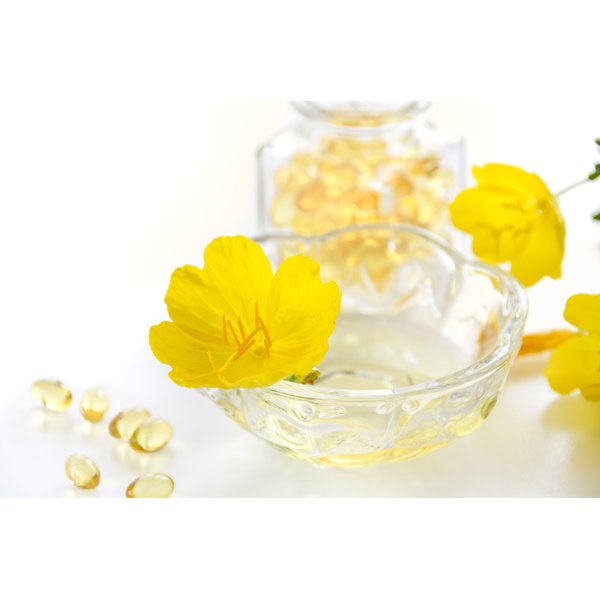 Attention-deficit/hyperactivity disorder, or ADHD, is a behavior disorder characterized by inattention, hyperactivity, and impulsivity. ADHD occurs in up to 15 percent of children, and may continue in adulthood or create long-term psychological complications like low self-esteem or academic failure. Evening primrose oil in combination with omega-3 fatty acids may help reduce symptoms of ADHD. If you consider taking these supplements, talk to your doctor first.
Identification
Evening primrose, also known as Oenothera biennis, is a plant native to North America, now widely cultivated in Europe as well. Its yellow flowers bloom from June to September in the evenings, hence its name. After the flower dies, seeds are formed in a capsular pod. The evening primrose seeds are rich in omega-6 fatty acids, particularly linoleic acid, or LA, and gamma-linoleic acid, or GLA . There are healthy omega-6 fatty acids, such as GLA and LA, found in evening primrose oil, and unhealthy omega 6 found in processed foods, says University of Maryland Medical Center. Same source indicates that a balance between omega-6 and omega-3 fatty acids is important for maintaining optimal health.
Research
The metabolism of essential fatty acids in children with hyperactivity disorder, behavior and learning issues is impaired, says Heather Boom, PhD and author of "50 Most Common Medicinal Herbs." She further states that based on a review of research studies, evening primrose oil may benefit children with ADHD, although in some studies this supplement was not better then placebo. A combination of omega-3 and omega-6 GLA for three to four months could lead to a decrease of ADHD symptoms, according to a group or researchers led by C. Tansler from Unilever Food and Health Research Institute, the Netherlands. The study, published in the November 2010 issue of "Journal of Attention Disorders" also found that supplementation with either GLA alone or omega-3 fatty acids alone did not improve symptoms of ADHD.
Dosage
For children with ADHD, the recommended dosage of evening primrose oil is 2 to 4g daily and for adults with ADHD between 2 to 8g daily. In order to achieve therapeutic benefits from this supplement, you need to take it daily for at least six months, recommends Heather Boom. It should be also taken along with a source of omega-3 fatty acids such as fish oil, krill oil or flax seed, to obtain a balanced ratio omega-6 to omega-3 fatty acids in the body.
Considerations
It appears that evening oil may benefit ADHD sufferers as long as is combined with omega-3 supplements. Consult an alternative health care provider to find out more about optimal dosage of essential fatty acids 3 and 6, as well as their possible side effects and drug interactions. Keep in mind that evening primrose oil does not replace any medication you are currently taking and has not been approved by U.S. Food and Drug Administration to treat ADHD or any other medical condition.