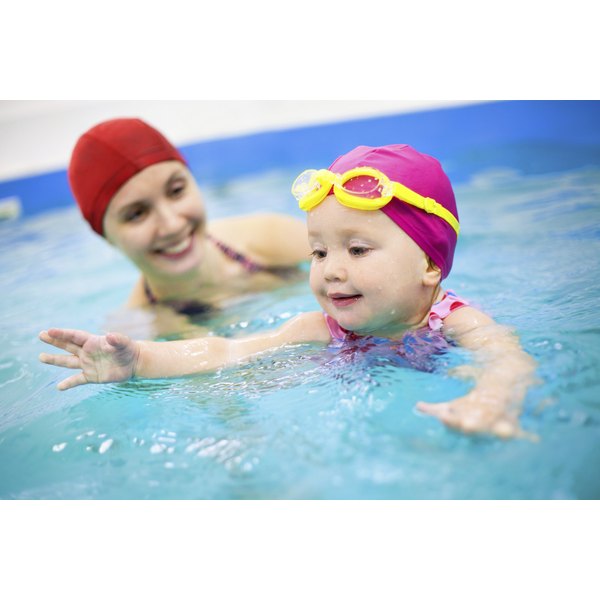 Kids between 1 and 14 in the U.S. face drowning as the second leading cause of death due to unintentional injuries. The Centers for Disease Control and Prevention reported 3,443 drownings in the U.S. in 2007; among 1- to 4-year-olds who died that year from unintentional injuries, 30 percent drowned. With scary statistics like these, you may be considering infant survival swimming lessons. Opinions and results are mixed.
American Academy of Pediatrics Policy Statement
A policy statement issued on July 1, 2010, by the American Academy of Pediatrics, warns that toddlers and male teens are at highest risk of drowning, and after age 1, boys are more at risk than girls are. In a revision of an earlier policy statement, the AAP is relaxing its policy, which formerly advised against swimming lessons for children ages 1 to 4, and now reports two studies that concluded infant swim lessons do not increase the risk of drowning and may actually reduce it. While the AAP does not think there is yet enough evidence to recommend swimming lessons for kids 1 to 4, they no longer advise against it. The AAP continues to stress that no studies have shown the safety benefits of programs for infants under 1.
Infant Swimming Resource
Dr. Harvey Barnett started the Infant Swimming Resource in 1966. As of 2006, the ISR reports 790 documented instances in which children used ISR survival techniques to save themselves.
Self-Rescue
The ISR teaches courses for infants 6 to 12 months and for children 1 to 6. They don't offer classes for infants younger than 6 months. ISR's "self-rescue" teaches children in the 6-to-12-month group to hold their breath when they go under water, roll on their backs and float without assistance until they are rescued. Initially, babies learning self-rescue steps are wearing swim diapers, but later they are in regular clothing while performing self-rescue. Babies are placed face down in the water and taught to roll to their backs, but the infants are only face down for a few seconds. The 1-to-6-year-old classes teach kids the same skills as in the younger classes, with these two exceptions: older kids learn to swim with their heads down and to roll to their stomachs and swim toward the edge of the pool, resting in between swims by floating on their backs.
Warnings
Infant survival swimming lessons remain somewhat controversial, and some doctors warn parents of the potential risks for infants in chlorinated pools. Water diapers do not prevent fecal material from entering the water, and a parasite called cryptosporidium may cause diarrhea and upset stomach. The parasite may be more dangerous for babies with weak immune systems. Parents should ask their child's physician whether the child should wear earplugs when swimming if he has ear tubes. Swimmer's ear, red and puffy eyes, and illnesses from swallowing too much pool water are additional -- but treatable -- concerns. Some researchers have studied the link between childhood asthma and infants using swimming pools, but results are mixed. One study found more wheezing and chest congestion in babies who swam at 6 months, while another study reported that babies who did not swim before turning 1 had a higher risk of an asthma diagnosis by the time they were 6. Parents who are concerned should rinse their babies off after getting out of the pool and should swim in well-ventilated areas.
Final Warning
The AAP stresses that the biggest factor in preventing infant drowning is supervision, and no swimming lessons are a replacement for alert adults. Do not -- for even single moment -- leave a baby alone or with another small child near water, including pools, spas, bathtubs, drainage ditches, toilets and five-gallon buckets. Avoid drinking alcohol, taking phone calls, performing chores or visiting with others while watching children swim. Stay within an arm's reach of a child in the water, preferably making actual contact with her at all times.