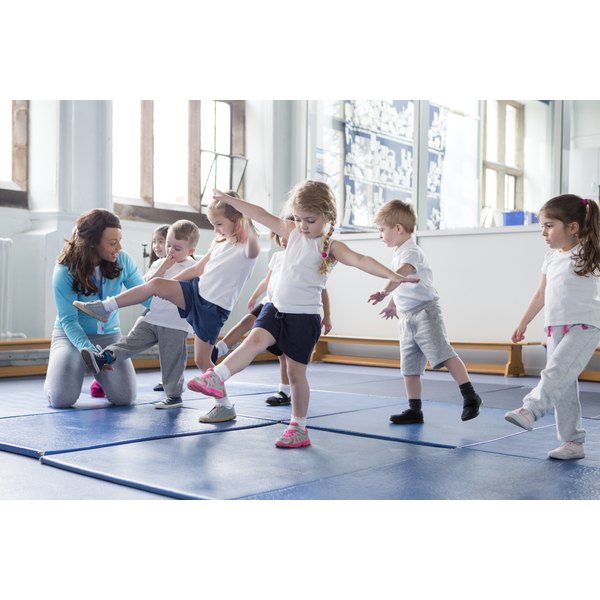 Who says only adults like to get their groove on? Zumba, the spicy workout that's based around Latin music, now offers certifications to teach classes to children between the ages of 3 to 12. Although a license is required to teach an official fitness classes to children, you don't need a certificate to teach your preschooler some Zumba exercises at home. You need about 30 minutes, a little bit of Latin dance knowledge, a lot of patience, energy to burn and a love for Zumba.
The National Association for Sport and Physical Education suggests preschoolers have 60 minutes per day of structured physical activity. Learning Zumba routines is a fun way for preschoolers to work toward this goal. Structured dance classes like Zumba help kids with physical development, emotional maturity, cognitive growth and social awareness, according to National Dance Education Organization.
Class Structure
Children between the ages of 3 to 5 typically have short attention spans and lots of energy, but few dance skills. Fortunately, Zumba does not require any previous dance experience.
Keep the tone light since Zumba should feel more like a party than a lesson. Teach the preschooler one song at a time, going over steps until she's comfortable and can remember most of the movements. Have a few songs ready and let her pick the music she likes best.
Start your lesson stretching to slower Latin music while you discuss the dance you want to share. Estimate 30 minutes of dancing with a few water breaks before she loses interest.
Choreography Options
Keep choreography simple for kids, and slow down steps to include pauses where you can remind him what's coming next. Use the four Zumba basics: meringue, cumbia, salsa and raggeaton dance moves; incorporate kid-friendly exercises like big jumps, jumping jacks and karate chops.
Use musical queues to remind your dancer when the movement will change. Incorporate animal movements or familiar characters like zombies to engage his imagination while he's dancing. If you notice a movement is too difficult, change it.
Sample Choregraphy
Try out an easy routine for the kids, starting with a meringue, one of the four basic Zumba rhythms.
Start by marching during the beginning of the song.

Add swinging hips and then simple arm movements by putting both arms straight out to the side and bending one arm in at a time. If the music has any pauses, use them to stop for two beats, then jump straight up.

Land while making a "funny face" and turn to the right.

Repeat the sequence facing the right-side of the room, then turn right again.

Repeat until you are facing the front of the room again. March with arm movements until the song ends.

Make It Fun!
Make your lesson time fun by giving lots of positive feedback and keeping the atmosphere more playful than strict. If your preschooler's attention is fading, take a break. Kids like to copy your behavior at this age; if you're having fun, she will be, too — that's what Zumba is all about.
Read more: Fun Workouts for Kids