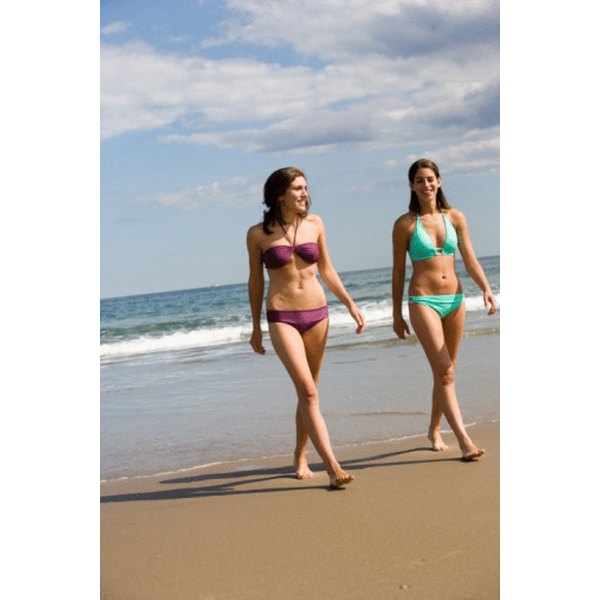 Oral forms of aloe vera are often included in detoxification diets as a method for cleansing your body of harmful chemicals and achieving rapid weight loss. While speculation about aloe's benefit to your waistline lacks evidence, aloe cleansers and detox diets often cause harmful side effects that threaten your overall well-being. Alert your doctor prior to undergoing any cleanse procedure as a method for weight loss.
Significance
Those who profit from detox diets promise benefits that include reduced weight loss without the need to exercise, as well as enhanced body functions and a lower risk for serious health conditions. Detox diets typically require users to consume liquid cleansers that often contain oral forms of aloe. The cleansers work as laxatives and increase your bowel movements. Government regulations allow aloe cleansers and other dietary supplements with aloe to be sold without the proof of effectiveness that is required for normal medications. Many doctors discourage the use of cleansing as unnecessary and potentially dangerous.
Function
Detox diets recommend drinking liquid mixtures as a substitute for solid foods in order to rid your body of harmful waste and other chemicals. The diets typically last from 10 days to a month. A prominent detox diet recommends consumption of maple syrup, water, cayenne pepper and lemon juice, along with salt water and a laxative tea. Liquid or gel from the aloe vera plant is included in many herbal weight-loss supplements and detox-cleanse kits based on the plant's reputation as a laxative. Aloe gel is also used to remedy burns, infections and many skin conditions.
Theories/Speculation
Manufacturers of aloe cleansers and detox kits claim the products clean your body of dangerous toxins as well as aid in rapid weight loss, restore proper function to your colon and reduce your risk for serious health conditions like arthritis. While testing on aloe has shown the plant to be ineffective for weight loss, some who undergo detox diets temporarily lose water weight due to increased urination and bowel movements. There is no evidence to prove that aloe cleanses your colon or lowers your chance of disease, and many doctors agree that cleansers are unnecessary since your body's natural digestion system effectively removes harmful waste and chemicals from your body.
Side Effects
Cramping, diarrhea, liver damage and worsened constipation are common side effects of oral aloe, while some people experience muscle weakness, abnormal heart rhythms and low blood sugar. Side effects of detox diets include fatigue and poor nutrition. A colon cleanse elevates your risk for dehydration, weakened bowel function and a reduction in healthy bacteria in your colon.
Potential
Alert your doctor if you experience a sudden weight change or if you suffer breathing difficulties or fatigue after participating in a detox diet. Bypass the risks of aloe cleansers and detox diets by following a healthy nutrition plan that includes plenty of whole grains, vegetables and fruit as a complement to regular exercise on most days of the week.