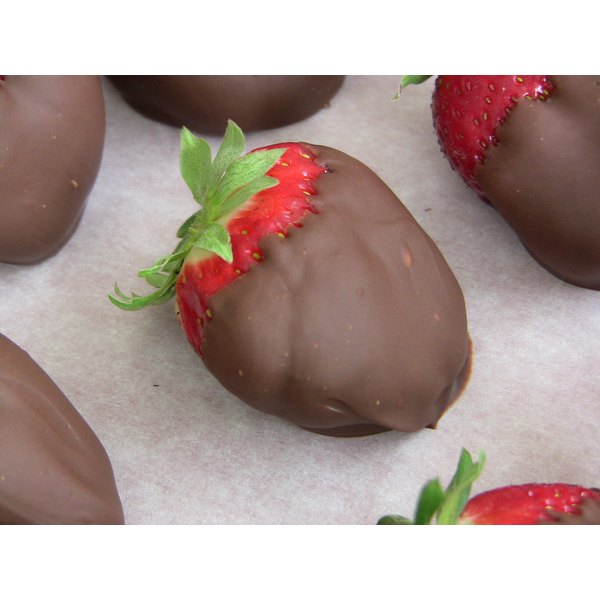 Most low-carb diets allow you to eat between 20 and 150 g of carbohydrates a day. Low-carb diets strictly limit desserts such as baked goods or anything else that contains flour or sugar. However, it is possible to treat yourself to healthy low-carb desserts while sticking to your low-carb diet.
Berries with Topping
For a satisfying fruity dessert, try berries topped with creamy Mediterranean yogurt. Start with five sliced strawberries, ten raspberries and ten blackberries. Mix 1/4 cup plain Mediterranean yogurt with stevia or another hypocaloric sweetener to taste, and spoon it over the berries. A serving of this healthy low-carb dessert has 117 calories, 12.7 g carbohydrates and 3.9 g fiber, for a total of only 8.8 g of net carbs. You can replace the plain Mediterranean yogurt with whipped cream you prepare by whipping two tablespoons of heavy cream with artificial sweetener. Berries topped with low-carb whipped cream contains 145 calories, 10.4 g carbohydrates and 3.9 g fiber, or only 6.5 g of net carbs.
Dark Chocolate
Dark chocolate is over 70 percent cocoa. This delicious treat easily fits in a low-carb diet. Three squares of dark chocolate equivalent to 30 g provide 179 calories, 13.8 g carbohydrates and 3.3 g fiber, for a total of 10.5 g of net carbs.
Chocolate-Dipped Strawberries
Chocolate-dipped strawberries make an elegant low-carb dessert. Begin by melting your favorite dark chocolate that has over 70 percent cocoa, and mix it with a bit of heavy cream. Dip each strawberry in the chocolate and place on parchment paper until the chocolate sets. Each serving of five strawberries prepared with two squares, or 20 g, of dark chocolate and a teaspoon of heavy cream provides 147 calories, 11.7 g of carbohydrates and 4.2 g fiber, which corresponds to only 7.5 g of net carbs.
Peanut Butter-Dipped Fruit
If you like peanut butter, you will enjoy this simple low-carb dessert. Put half a tablespoon of virgin coconut oil and a tablespoon of peanut butter in a small bowl. Heat a few seconds in the microwave, until the coconut oil melts so you can mix it with the peanut butter. Stir well to combine. Use this mix as a dip for apples, pears, strawberries and other fruit. This low-carb dessert contains 204 calories, 16.5 g carbohydrates and 3.5 g fiber, for a net carb content of 13 g.
Baking With Coconut Flour
If you love baked goods and want to follow a low-carb diet, it is possible to enjoy treats like cookies, brownies and cake by using coconut flour instead of wheat flour. Coconut flour is very high in fiber and low in carbohydrates. Because it is gluten-free, recipes using coconut flour must be adjusted to yield acceptable results. Use recipes specifically designed for coconut flour. A quarter cup of all-purpose wheat flour contains 114 calories, 23.8 g carbohydrates and 0.8 g fiber, which leaves 23 g of net carbs. On the other hand, the same amount of coconut flour provides only 60 calories, 19 g carbohydrates and 12 g fiber, for a total of 7 g of net carbs.