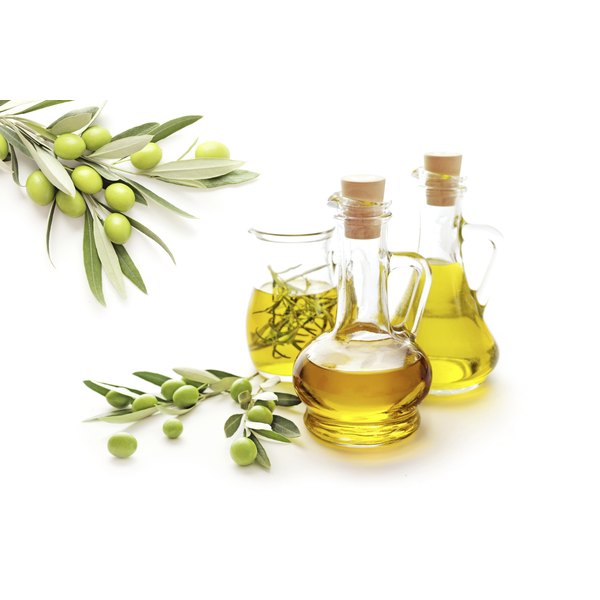 Polyunsaturated fatty acids are a healthy type of fat because they are made of unsaturated fats. Polyunsaturated fatty acids include omega-3 fatty acids, which have been proven to promote health. The American Heart Association recommends omega-3 fatty acids daily for heart health. Sources of omega-3 fatty acids include cold water fish, fatty fish, walnuts, peanuts, almonds, olive oil and canola oil.
Lowers Triglycerides
A benefit of polyunsaturated fatty acids is that they lower triglycerides. The AHA recommends people with high triglycerides to substitute saturated fat in the diet with polyunsaturated fats. Polyunsaturated fats attach to and clear out unhealthy fats, like saturated fat, cholesterol and triglycerides. A study in the 2006 journal "Atherosclerosis," led by researcher E. Balk, explains that fish oil improves the good cholesterol known as high-density lipoprotein cholesterol and lowers triglycerides. Another study led by William S. Harris and published in the May 1997 "American Journal of Clinical Nutrition" shows around 4g of fish oil daily lowers triglycerides by 25 percent to 35 percent.
Reduces Blood Pressure
Polyunsaturated fatty acids can help lower blood pressure. Several studies show this benefit, including a study in the 2007 journal "Hypertension" led by researcher Hirotsugu Ueshima. The study assessed diets of various people and discovered people who consume fish oils and polyunsaturated fats have lower blood pressure.
Improves Depression and ADHD
A benefit to polyunsaturated fats includes the possibility of improving depression symptoms. Some studies have shown benefit while others do not, though supplementation does not appear to be harmful. A 2009 study in "Nutrition Reviews" led by researcher J. Sarris points out that omega-3 fatty acids used alone are likely not beneficial unless used in conjunction with an antidepressant.
Polyunsaturated fats may also benefit attention deficit hyperactivity disorder. A study in the January 2000 "American Journal of Clinical Nutrition" led by researcher J. Burgess reports 100 boys with ADHD were found to have low levels of polyunsaturated fats, which may provide the link to the ADHD symptoms and the potential possibility of lessening symptoms.