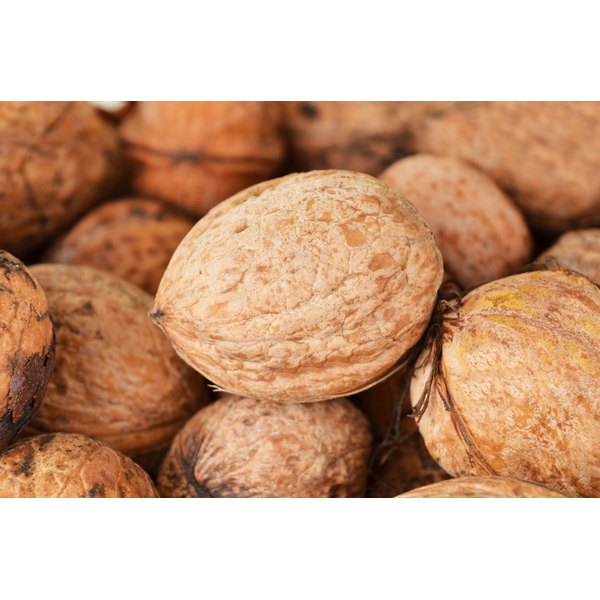 Walnuts are a small, but nutritional food that provides essential vitamins and minerals. Walnuts are also an excellent source of protein that is healthier than other sources of protein such as meats. Walnuts can be eaten by themselves or put into breads or added to cereals or oatmeal.
Fiber
All nuts contain fiber, including walnuts. According to the USDA's National Nutrient Database, 1 cup of chopped walnuts contains 7.8 g of fiber. Adult men should consume 30 to 38 g of fiber a day. Adult women should consume 21 to 25 g of fiber a day. Fiber helps keep you full longer since it takes longer to digest and may help prevent diabetes. Walnuts can be added to oatmeal, tossed into salads or baked into breads or other bakery items.
Vitamin E
One cup of chopped walnuts contain 0.82 mg of vitamin E. Adult men and women older than the age of 19 should consume 15 mg of vitamin E a day. Vitamin E is responsible for immune function, helps prevent cataracts, may help prevent some types of cancer and is linked to a decrease in heart attacks. Vitamin E has also been used as part of a treatment regimen in cancer, cardiovascular disease, diabetes and dementia.
Omega-3 Fatty Acids
Omega-3 fatty acids are healthy fats that can be found in all types of nuts, including walnuts. Omega-3 fatty acids are considered to be an essential nutrient since humans must get this nutrient from food sources. Omega-3 fatty acids may help reduce the risk of developing heart disease, arthritis and cancer. Omega-3 fatty acid is responsible for healthy brain function and helping the fetus of a pregnant mother develop healthy vision and a healthy nervous system. A deficiency in omega-3 fatty acids can result in dry skin, poor memory, depression and fatigue.